Other affiliations: 

Co-founder, ICTD conference, which recently completed its eighth iteration.
Associate editor: Information Technology and International Development (ITID) Journal

Co-Investigator "Unintended Consequences of Technology" with Bilal Butt and Omolade Adunbi. The project examines unintended consequences of technology in three different settings. First, on Social Media use in Nigeria around public action and politics in the petroleum sector in oil-rich communities in the Niger delta. Second, on technology use among pastoral populations in Kenya. The third project is on adaptive technology use by people with disabilities in Sierra Leone, Rwanda, Malawi, and Costa Rica.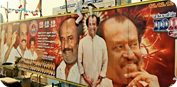 Researcher / Producer: "For the Love of a Man" a film tracing the history and present day relevance of film fanclubs in Tamil Nadu through stories of fans of Tamil film actor Rajnikanth.
I collaborated on the writing of the biography of Niranjan Pal, a screenwriter and the first Indian playwright to have his work featured in London's West End in the 1920s. I also occasionally write for a film blog.
With archives faculty David Wallace, I worked on the design and interface of an online archive for testimonials around the El Salvador Civil War, called Unfinished Sentences Testimonial Archive. The project, an initiative at the University of Washington Center for Human Rights is founded and managed by Angelina Godoy. The initial design and repository structure was set up students in SI657.
In the past, I have taught at the Pallikoodam school in Kottayam, Kerala.