Somya Sagarika, Dibyendu Mishra, Joyojeet Pal
(suggested citation: Sagarika, S., Mishra, D. and Pal, J. (2020) Influencers in Indian political journalism. http://joyojeet.people.si.umich.edu/influencers-in-indian-political-journalism/ )
We plotted the friends of journalists in India to understand who are the most "listened to" Twitter accounts among Indian journalists. In essence, we take all the accounts followed by journalists and provide basic descriptives on who has the most "reach" among journalists, insofar as "following" a Twitter account equates to listening to the content from that account. This is preliminary research intending to offer a small set of "lists" to allow for a lay of the land.
All data gathered are done so using the Twitter Public API. All the data included here is public data, and the individuals covered here are persons with significant engagement with public commentary.
Goals
While this is an uncritical description of actual engagement, it is useful as a metric of potential influence with the press. Subsequent work will offer more detailed analysis of what this reach does – such as accounts retweeted, median retweet rates etc. While we have not yet made the raw data public, we plan to, and offer a very detailed methodology for anyone who wishes to replicate the data and test results for themselves.
Methodology
We used a seed set of journalists most retweeted by politicians, then found the friends of those journalists, and hand-annotated each of them to confirm if they were journalists. Based on this, we had an initial set of 2170 accounts – 1899 ground truth journalists, ie. confirmed by a human expert and 271 media collectives such as organizations, newspapers etc. This was done by individual verification by our in-house confirmation of their being journalists. We feel this is a better set than purely seeking Twitter verification status, since many journalists do not get verified (N. Ram of The Hindu, for instance). This seed set was tested to see if major journalists were covered, we feel confident that outside of a small number of possible exceptions, all Indian journalists with a significant Twitter presence were covered.
Based on this set, we used the Twitter public API to find friends of these 1899 (setting a maximum threshold of 4000 friends), and came up with a list of 46,855 Twitter accounts followed by at least 5 journalists from this initial set. This sample of 46,855 twitter accounts is then ordered on the number of the initial set of 1899 journalists following any account. Essentially, the highest score would be 1898 if everyone in the sample followed a single account. Consequently, the set includes anyone followed by five or more of the 1899 journalists and includes politicians, celebrities, influencers, institutions, media houses, and other journalists. While the overall sample may have false positives, all the accounts presented as part of the results are hand-checked for confirmation.
Our rankings are based on any individual Twitter account's score on the seed set's following. The most-followed account in our sample was that of Narendra Modi, with 1436 of the seed set following.
Categories
All categories are exclusive. Thus, inclusion in one category means exclusion from another. Thus an individual who is or was a politician, but is also a journalist is assigned to their current position. Thus Pritish Nandy is listed as a journalist, while Gautam Gambhir is listed as a politician. The categories are as follows:
Politicians: Includes any individual (not party) currently affiliated with a party, in public office, or having fought an election in the last two elections. These are culled from a set of ~18500 known politicians active in the 2019 general elections
Celebrities: Includes any individual active in public life including sports, business, entertainment, literature etc. Authors or media creators whose work is primarily in fiction are included here.
Academics and Public Intellectuals: Individuals in think tanks, academia, activism, or in professions such as historians or lawyers, who are commentators on public issues are included here. Authors, where their books are academic or quasi academic in nature are included here. We exclude any public intellectuals or commentators who are currently in active government, but include former civil servants who comment on public issues.
Foreign journalists: Any journalist whose location is listed outside India. This includes journalists for Indian news located abroad, but does not include journalist for foreign media located in India
Journalist's journalists: Journalists who are highly followed within the community of journalists despite not having a very high following in the general public (threshold, minimum 300 journalists following)
Limitations
While our set has a human annotator removing false positives, a limitation is that we do not have an effective method of catching false negatives. Thus journalists who do not have much of a network – ie are not friends with other journalists are excluded. Another limitation is with categorization, especially when individuals fit multiple categories. In the category "Academics and Public Intellectuals" we list anyone who is a faculty member at a university, a research body, or an intellectual who contributes to public discourse in the mainstream media. Here, we rely on individuals' self-description on Twitter, but also on whether they are formally affiliated with an academic institution. Some of those listed here therefore may also see themselves as journalists by virtue of writing columns, but are listed as public intellectuals because of their affiliation. Thus Saba Naqvi, who is also a journalist, but as a self-described author and member of faculty, is listed as a public intellectual.
Results
Most followed journalists
Figure 1 shows a visualization of the most followed journalists, with the number of followers on Twitter on the x-axis and the number of followers within the journalist sample in the y-axis. Shekhar Gupta of The Print is the most followed journalist from within the community of journalists, while Rajdeep Sardesai is relatively more popular in the general Twitter population. Some journalists have fairly high following among other journalists relative to their online following such as Siddharth Varadarajan and Naresh Fernandes, whereas others like Vir Sanghvi and Pritish Nandy. Since the visualization is on a log scale, the dots are not intuitive representations of their relative scale.
Most followed politicians
Figure 2 shows a visualization of the most followed politicians, with the number of followers on Twitter on the x-axis and the number of followers within the journalist sample in the y-axis. Narendra Modi is the clear leader and others like Rahul Gandhi and Arvind Kejriwal are also popular among journalists. But the graph also shows that following among casual citizens bear a direct ration to following among the professional press. Some leaders with a relatively small following, such as Atishi and Manish Tiwari, have a reasonably strong footprint among journalists.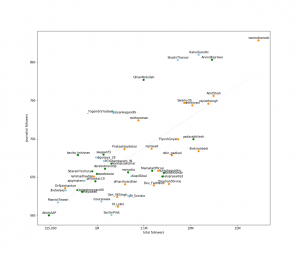 Figure 2: Indian politicians followed by journalists in the community (y axis scale starts at 500 followers)
Most followed public intellectuals
Figure 3 shows a visualization of the most followed academics and public intellectuals, with the number of followers on Twitter on the x-axis and the number of followers within the journalist sample in the y-axis. Ramachandra Guha is the clear leader, lawyer Prashant Bhushan is a distant second, followed by Ashoka University professor Pratap Bhanu Mehta.  Public commentators like lawyer Gautam Bhatia and author Akshaya Mukul, who have relatively smaller following among the general public, are heavily followed by the professional press, thus have important spheres of influence in the public discourse.
Most followed foreign journalists
Figure 4 shows a visualization of the most followed foreign journalists, with the number of followers on Twitter on the x-axis and the number of followers within the journalist sample in the y-axis. This is the only figure in which the trend line is downward – essentially suggesting that some of the most followed journalists in the world such as Anderson Cooper, Ezra Klein, or Nate Silver aren't necessarily those of most interest to the typical Indian journalist. On the other hand, journalists of Indian origin or foreign correspondents with Indian news tend to have more sway among Indian journalists.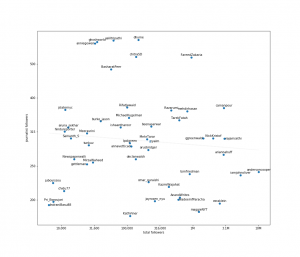 Outsize popularity journalists
Figure 5 shows a selection of those journalists with the highest journalist follower to general follower ratio. Essentially, these journalists are relatively well followed among their fraternity, even if they do not have a massive following online. To arrive at this list, we took a ratio of the number of followers from within the fraternity to the total number of followers, setting a low threshold of at least 300 followers from among journalists and a maximum of a total of 60,000 Twitter followers for the account. This list offers a crude statistic to identify journalists whose work would appear to have strong purchase among other journalists. In this list, journalists like Raj Kamal Jha, Rohan Venkat, and Josy Joseph are outliers in that have they may not have the same name recognition as some of the most followed journalists, but are particularly well-followed within the fraternity.
Celebrities
Figure 6 shows a selection of those celebrities with the highest journalist follower to general follower ratio.  Amitabh Bachchan has the overall highest following, but we see that the correlation between high following online and high following among journalists is not as clear. Akshay Kumar, for instance, is a very highly followed celebrity, but journalists don't follow his tweets in the same ratio. Businessmen Anand Mahindra and Ratan Tata have far higher following than the ratio of numbers in the general population, which is understandable since entertainers generally do better in terms of overall popularity. Celebrities who tend to be more engaged in political content such as Swara Bhaskar, Kunal Kamra, and Javed Akhtar tend to have better following than celebs who eschew discussing political issues openly including Hritik Roshan and Alia Bhatt.
Tables

Table 1: Journalists  (rank order based on how many follows by journalists)
Rank
Journalists most followed by journalists
1
Shekhar Gupta
ShekharGupta
2
Rajdeep Sardesai
sardesairajdeep
3
Barkha Dutt
BDUTT
4
Siddharth
svaradarajan
5
Suhasini Haidar
suhasinih
6
Rahul Kanwal
rahulkanwal
7
Pratik Sinha
free_thinker
8
N. Ram
nramind
9
Sreenivasan Jain
SreenivasanJain
10
Sagarika Ghose
sagarikaghose
11
Prannoy Roy
PrannoyRoyNDTV
12
Rana Ayyub
RanaAyyub
13
Dhanya Rajendran
dhanyarajendran
14
Nidhi Razdan
Nidhi
15
Nistula Hebbar
nistula
16
Shivam Vij
DilliDurAst
17
Rohini Singh
rohini_sgh
18
M K Venu
mkvenu1
19
Vikram Chandra
vikramchandra
20
vir sanghvi
virsanghvi
21
Sankarshan Thakur
SankarshanT
22
Madhu Trehan
madhutrehan
23
Naresh Fernandes
tajmahalfoxtrot
24
ravish kumar
ravishndtv
25
Malini Parthasarathy
MaliniP
26
Hartosh Singh Bal
HartoshSinghBal
27
Nikhil Wagle
waglenikhil
28
Sunetra Choudhury
sunetrac
29
Smita Prakash
smitaprakash
30
Supriya Sharma
sharmasupriya
31
Rahul Pandita
rahulpandita
32
Vijaita Singh
vijaita
33
Praveen Swami
praveenswami
34
ParanjoyGuhaThakurta
paranjoygt
35
Samar Halarnkar
samar11
36
Raj Kamal Jha
rajkamaljha
37
Sidharth Bhatia
bombaywallah
38
Shiv Aroor
ShivAroor
39
Neha Dixit
nehadixit123
40
Nitin Sethi
nit_set
41
Sruthijith
sruthijith
42
Swati Chaturvedi
bainjal
43
Faye DSouza
fayedsouza
44
Tavleen Singh
tavleen_singh
45
Raghav Bahl
Raghav_Bahl
46
Aroon Purie
aroonpurie
47
Sonia Singh
soniandtv
48
Rama Lakshmi
RamaNewDelhi
49
Pritish Nandy
PritishNandy
50
P. Sainath
PSainath_org
Table 2: Politicians (rank order based on how many follows by journalists)
Rank
Politicians most followed by journalists
1
Narendra Modi
narendramodi
2
Rahul Gandhi
RahulGandhi
3
Arvind Kejriwal
ArvindKejriwal
4
Shashi Tharoor
ShashiTharoor
5
Omar Abdullah
OmarAbdullah
6
Amit Shah
AmitShah
7
Subramanian Swamy
Swamy39
8
Rajnath Singh
rajnathsingh
9
Smriti Z Irani
smritiirani
10
Yogendra Yadav
_YogendraYadav
11
Priyanka Gandhi Vadra
priyankagandhi
12
Nirmala Sitharaman
nsitharaman
13
Piyush Goyal
PiyushGoyal
14
Akhilesh Yadav
yadavakhilesh
15
Ravi Shankar Prasad
rsprasad
16
Prakash Javadekar
PrakashJavdekar
17
Kiran Bedi
thekiranbedi
18
Swapan Dasgupta
swapan55
19
Kavita Krishnan
kavita_krishnan
20
Nitin Gadkari
nitin_gadkari
21
digvijaya singh
digvijaya_28
22
P. Chidambaram
PChidambaram_IN
23
Kanhaiya Kumar
kanhaiyakumar
24
Derek O'Brien
derekobrienmp
25
Mamata Banerjee
MamataOfficial
26
Suresh Prabhu
sureshpprabhu
27
Sitaram Yechury
SitaramYechury
28
Manish Sisodia
msisodia
29
Nitish Kumar
NitishKumar
30
Asaduddin Owaisi
asadowaisi
31
Shehla Rashid
Shehla_Rashid
32
Kapil Sibal
KapilSibal
33
Lalu Prasad Yadav
laluprasadrjd
34
Ram Madhav
rammadhavbjp
35
Ajay Maken
ajaymaken
36
Priyanka Chaturvedi
priyankac19
37
Swati Chaturvedi
bainjal
38
Shivraj Singh Chouhan
ChouhanShivraj
39
Dr Harsh Vardhan
drharshvardhan
40
Devendra Fadnavis
Dev_Fadnavis
41
Dr. S. Jaishankar
DrSJaishankar
42
Jignesh Mevani
jigneshmevani80
43
Sanjay Jha
JhaSanjay
44
Mayawati
Mayawati
45
Jyotiraditya M. Scindia
JM_Scindia
46
Vijay Kumar Singh
Gen_VKSingh
47
Randeep Singh Surjewala
rssurjewala
48
Manish Tewari
ManishTewari
49
Meenakashi Lekhi
M_Lekhi
50
Sachin Pilot
SachinPilot

Table 3: Scholars / Commentators (rank order based on how many follows by journalists)
Rank
Academics & commentators most followed by journalists
1
Ramachandra Guha
Ram_Guha
2
Prashant Bhushan
pbhushan1
3
Pratap Bhanu Mehta
pbmehta
4
Saba Naqvi
_sabanaqvi
5
William Dalrymple
DalrympleWill
6
Mihir Sharma
mihirssharma
7
Nirupama Menon Rao
NMenonRao
8
Bibek Debroy
bibekdebroy
9
Kaushik Basu
kaushikcbasu
10
S.Y. Quraishi
DrSYQuraishi
11
Gautam Bhatia
gautambhatia88
12
S lrfan Habib
irfhabib
13
Sudheendra Kulkarni
SudheenKulkarni
14
Markandey Katju
mkatju
15
MadhuPurnima Kishwar
madhukishwar
16
Arvind Subramanian
arvindsubraman
17
Brahma Chellaney
Chellaney
18
Husain Haqqani
husainhaqqani
19
Paul Krugman
paulkrugman
20
Ashish Khetan
AashishKhetan
21
Nitin Pai
acorn
22
Dhruva Jaishankar
d_jaishankar
23
S Gurumurthy
sgurumurthy
24
Kailash Satyarthi
k_satyarthi
25
Patrick French
PatrickFrench
26
Audrey Truschke
AudreyTruschke
27
Milan Vaishnav
MilanV
28
Akshaya Mukul
Akshayamukul
29
C. Raja Mohan
MohanCRaja
30
Srinath Raghavan
srinathraghava3
31
Tony Joseph
tjoseph0010
32
Ashutosh Varshney
ProfVarshney
33
Ashok Swain
ashoswai
34
Shankkar Aiyar
ShankkarAiyar
35
Tanvi Madan
tanvi_madan
36
Menaka Guruswamy
MenakaGuruswamy
37
Samir Saran
samirsaran
38
Syed Ata Hasnain
atahasnain53
39
Ian Bremmer
ianbremmer
40
Amish Tripathi
authoramish
41
Jaffrelot Christophe
jaffrelotc
42
Nandini Sundar
nandinisundar
43
Amitabh Mattoo
amitabhmattoo
44
Arunava Sinha
arunava
45
Arvind Panagariya
APanagariya
46
Jawhar Sircar
jawharsircar
47
Ian Woolford
iawoolford
48
Dr. Shamika Ravi
ShamikaRavi
49
Manu S Pillai
UnamPillai
50
Amitava Kumar
amitavakumar

Table 4: Foreign Journalists (rank order based on how many follows by journalists)
| | | |
| --- | --- | --- |
| 1 | Sadanand Dhume | dhume |
| 2 | Salil Tripathi | saliltripathi |
| 3 | Bobby Ghosh | ghoshworld |
| 4 | Annie Gowen | anniegowen |
| 4 | Chitra Subramaniam | chitraSD |
| 6 | Fareed Zakaria | FareedZakaria |
| 7 | Basharat Peer | BasharatPeer |
| 8 | Rifat Jawaid | RifatJawaid |
| 9 | Christiane Amanpour | camanpour |
| 10 | Joanna Slater | jslaternyc |
| 11 | Raza Ahmad Rumi | Razarumi |
| 12 | Mehdi Hasan | mehdirhasan |
| 13 | Michael Kugelman | MichaelKugelman |
| 14 | Tarek Fatah | TarekFatah |
| 15 | Jason Burke | burke_jason |
| 16 | Beena Sarwar | beenasarwar |
| 17 | Aruna Chandrasekhar | aruna_sekhar |
| 18 | Ishaan Tharoor | ishaantharoor |
| 19 | Mohammad Ali | hindureporter |
| 20 | Meera Srinivasan | Meerasrini |
| 21 | Nicholas Kristof | NickKristof |
| 22 | Samanth Subramanian | Samanth_S |
| 23 | Glenn Greenwald | ggreenwald |
| 24 | Najam Sethi | najamsethi |
| 25 | Mehr Tarar | MehrTarar |
| 26 | Cyril Almeida | cyalm |
| 27 | Lydia Polgreen | lpolgreen |
| 28 | Tunku  Varadarajan | tunkuv |
| 29 | Anna MM Vetticad | annavetticad |
| 30 | Alan Rusbridger | arusbridger |
| 31 | Arianna Huffington | ariannahuff |
| 32 | Anahita Mukherji | Newspaperwalli |
| 33 | Declan Walsh | declanwalsh |
| 34 | Mirza Waheed | MirzaWaheed |
| 35 | Jeffrey Gettleman | gettleman |
| 36 | Anderson Cooper | andersoncooper |
| 37 | Thomas L. Friedman | tomfriedman |
| 38 | John Oliver | iamjohnoliver |
| 39 | Omar R Quraishi | omar_quraishi |
| 40 | Julien Bouissou | jubouissou |
| 41 | Wajahat Kazmi | KazmiWajahat |
| 42 | Chidanand Rajghatta | chidu77 |
| 43 | Anand Giridharadas | AnandWrites |
| 44 | Nadeem Farooq Paracha | NadeemfParacha |
| 45 | Jay Rosen | jayrosen_nyu |
| 46 | Priyanka Borpujari | Pri_Borpujari |
| 47 | Ezra Klein | ezraklein |
| 48 | Indrani Basu | IndraniBasu88 |
| 49 | Maggie Haberman | maggieNYT |
| 50 | Katharine Viner | KathViner |

Table 5: Highly followed journalists within journalism community (rank order based on how many follows by journalists)
| | | |
| --- | --- | --- |
| 1 | Sankarshan Thakur | SankarshanT |
| 2 | naresh fernandes | tajmahalfoxtrot |
| 3 | Supriya Sharma | sharmasupriya |
| 4 | Samar Halarnkar | samar11 |
| 5 | Raj Kamal Jha | rajkamaljha |
| 6 | Nitin Sethi | nit_set |
| 7 | Sruthijith | sruthijith |
| 8 | Seema Chishti | seemay |
| 9 | P. Sainath | PSainath_org |
| 10 | Manu Pubby | manupubby |
| 11 | Anant Goenka | anantgoenka |
| 12 | Aman Sharma | AmanKayamHai_ET |
| 13 | Rukmini S | Rukmini |
| 14 | Sushant Singh | SushantSin |
| 15 | Rohan Venkat | RohanV |
| 16 | Vinod K. Jose | vinodjose |
| 17 | Aman Sethi | Amannama |
| 18 | Somesh Jha | someshjha7 |
| 19 | Josy Joseph | josyjosephkj |
| 20 | Niha Masih | NihaMasih |
| 21 | Amit Baruah | abaruah64 |
| 22 | Nirupama Subramanian | tallstories |
| 23 | Rasheed Kidwai | rasheedkidwai |
| 24 | Maneesh Chhibber | maneeshchhibber |
| 25 | Liz Mathew | MathewLiz |
| 26 | Ritika Chopra | KhurafatiChopra |
| 27 | Jairaj Singh | JairajSinghR |
| 28 | Anubhuti Vishnoi | anubhutivishnoi |
| 29 | Vidya Krishnan | VidyaKrishnan |
| 30 | Mahesh Langa | LangaMahesh |
| 31 | Sowmiya Ashok | sowmiyashok |
| 32 | Anoo Bhuyan | AnooBhu |
| 33 | Nandagopal Rajan | nandu79 |
| 34 | Snigdha Poonam | snigdhapoonam |
| 35 | Jyoti Malhotra | jomalhotra |
| 36 | Soutik Biswas | soutikBBC |
| 37 | Pragya Tiwari | PragyaTiwari |
| 38 | Jatin Gandhi | jatingandhi |
| 39 | Suhasini Raj | suhasiniraj |
| 40 | Rohini Mohan | rohini_mohan |
| 41 | Govindraj Ethiraj | govindethiraj |
| 42 | Smriti Kak | smritikak |
| 43 | Shoaib Daniyal | ShoaibDaniyal |
| 44 | Aruna Chandrasekhar | aruna_sekhar |
| 45 | Mohammad Ali | hindureporter |
| 46 | P Vaidyanathan Iyer | iyervaidy |
| 47 | Rahul Bhatia | rahulabhatia |
| 48 | Neelam Pandey | NPDay |
| 49 | Samanth Subramanian | Samanth_S |
| 50 | Ritu Kapur | kapur_ritu |

Table 6: Celebrities (rank order based on how many follows by journalists)
| | | |
| --- | --- | --- |
| 1 | Amitabh Bachchan | SrBachchan |
| 2 | Shah Rukh Khan | iamsrk |
| 3 | Aamir Khan | aamir_khan |
| 4 | anand mahindra | anandmahindra |
| 5 | Ratan N. Tata | RNTata2000 |
| 6 | Sachin Tendulkar | sachin_rt |
| 7 | Javed Akhtar | Javedakhtarjadu |
| 8 | Bill Gates | BillGates |
| 9 | Swara Bhasker | ReallySwara |
| 10 | Salman Rushdie | SalmanRushdie |
| 11 | Kunal Kamra | kunalkamra88 |
| 12 | Chetan Bhagat | chetan_bhagat |
| 13 | Anupam Kher | AnupamPKher |
| 14 | Farhan Akhtar | FarOutAkhtar |
| 15 | A.R.Rahman | arrahman |
| 16 | Virat Kohli | imVkohli |
| 17 | Salman Khan | BeingSalmanKhan |
| 18 | Deepika Padukone | deepikapadukone |
| 19 | Azmi Shabana | AzmiShabana |
| 20 | Anurag Kashyap | anuragkashyap72 |
| 21 | Nandan Nilekani | NandanNilekani |
| 22 | Karan Johar | karanjohar |
| 23 | Priyanka Chopra | priyankachopra |
| 24 | Amitav Ghosh | GhoshAmitav |
| 25 | Shekhar Kapur | shekharkapur |
| 26 | Gul Panag | GulPanag |
| 27 | Lalit Kumar Modi | LalitKModi |
| 28 | Vijay Mallya | TheVijayMallya |
| 29 | Mahesh Bhatt | MaheshNBhatt |
| 30 | Twinkle Khanna | mrsfunnybones |
| 31 | Rajinikanth | rajinikanth |
| 32 | Ramesh Srivats | rameshsrivats |
| 33 | Sam Pitroda | sampitroda |
| 34 | Akshay Kumar | akshaykumar |
| 35 | Virender Sehwag | virendersehwag |
| 36 | Abhishek Bachchan | juniorbachchan |
| 37 | Hrithik Roshan | iHrithik |
| 38 | Kiran Mazumdar Shaw | kiranshaw |
| 39 | Gurmehar Kaur | mehartweets |
| 40 | Tanmay Bhat | thetanmay |
| 41 | Rishi Kapoor | chintskap |
| 42 | Varun Grover | varungrover |
| 43 | Sania Mirza | MirzaSania |
| 44 | Elon Musk | elonmusk |
| 45 | Mahendra Singh Dhoni | msdhoni |
| 46 | Alia Bhatt | aliaa08 |
| 47 | Boman Irani | bomanirani |
| 48 | Devdutt Pattanaik | devduttmyth |
| 49 | Irrfan | irrfank |
| 50 | Lata Mangeshkar | mangeshkarlata |