Soham De, Joyojeet Pal
Following Rahul Gandhi's claim that Twitter had been artificially suppressing his following online, journalist Barkha Dutt also suggested that her own following had plateaued, and that Twitter may have artificially frozen her online following, we examined the social media activity of 50 Indian journalists and commentators to understand who had gained or lost footprint in the last year.
First, a few basic statistics. Figure 1 shows India's most followed, engaged journalists in 2021. We see that there is much variance in how much journalists tweet, and turn, how engaged they are. We see that a small number of journalists are very highly engaged — Anand Ranganathan, Deepak Chaurasia and Sushant Sinha. In general, if we look at the most engaged journalists and commentators overall, only one — Punya Prasun Bajpai, consistently messages against the government.

Figure 1: Top 50 journalist accounts based on a combination of following, engagement, and volume of activity
A look at India' most followed and engaged journalists on Twitter, we see that Rajat Sharma is now the most followed, bumping past Rajdeep Sardesai who for most of the last decade, held this slot. The leaderboard is as follows – Rajat Sharma 9.2 million, Rajdeep Sardesai, 9.0 million, Harsha Bhogle 8.8 million, Barkha Dutt 7.2 million, and Sudhir Chaudhary with 6.9 million. Of these, Rajdeep Sardesai and Barkha Dutt more or less stagnated in terms of both following and online engagement, while Sudhir Chaudhary and Rajat Sharma both had massive increases in following and engagement.
The Nationalist Turn
An overwhelming majority of the most engaged (likes and retweets) tweets from journalists are overtly nationalistic and delivered with a moral tone, most from journalists whose positions generally fall on the side of the government. We see for instance,the most retweeted message from 2021 from any journalist handle, which came from Rubika Liyaquat (who in fact has eight of the 25 most tweeted messages), in response to a message from actor Swara Bhasker. Liyaquat tweets in Hindi. There are more than twice as many Hindi-language messages at the highly retweeted end of the spectrum than English-language tweets.
One of the important changes in the last two years has been that the English-language highly engaged journalists have been replaced by journalists who tweet in Hindi, and more aggressively, particularly in the viral tweets category. We mapped the top 200 most retweeted messages from journalists in 2021, and here is a table of the journalists who grab the largest share. We see here that just Sushant Sinha and Anand Ranganathan together account for half of the most engaged tweets by all journalists and commentators combined. Both commentators are pro- ruling party, but more importantly, their tweets tend to have an explicit anti-liberal tone.
| | |
| --- | --- |
| Handle | Number of tweets in top 200 retweeted messsages |
| SushantBSinha | 67 |
| ARanganathan72 | 32 |
| RubikaLiyaquat | 22 |
| DChaurasia2312 | 18 |
| ShefVaidya | 8 |
| RajatSharmaLive | 6 |
| SureshChavhanke | 6 |
| zoo_bear | 6 |
| ranvijaylive | 5 |
| rohini_sgh | 5 |
| Shehzad_Ind | 3 |
| AdityaRajKaul | 3 |
| chitraaum | 3 |
| smitaprakash | 2 |
| ShivAroor | 2 |
| ajitanjum | 2 |
| abhisar_sharma | 2 |
| umashankarsingh | 2 |
| anjanaomkashyap | 2 |
| RanaAyyub | 1 |
| ShekharGupta | 1 |
| khanumarfa | 1 |
| AartiTikoo | 1 |
On the claim that a subset of journalists are stagnating online, we looked at the one-year change in followers among all journalists with more than 1 million followers, and tweeted roughly 1000 times or more in 2021 to see if there is a relationship. First the claim from Barkha Dutt of her account plateauing is accurate — she has gained followers at an usually slow pace, given the frequency of her messaging, the reach and engagement of the messages. The same is true of Rajdeep Sardesai. But what we are also seeing is an overall stagnation of large accounts that were relatively mainstream journalists, including Shekhar Gupta, Sagarika Ghose.
Figure 2: Changes in following and engagement of key accounts
In the Figure above, we notice 2 distinct clusters of journalists – the first group seems to either lost followers or have achieved a temporary stagnation in their following in 2021. The concentration of large bubbles there include Barkha Dutt, Rajdeep Sardesai, Gaurav Sawant, Rahul Kanwal, Vir Sanghvi, and Vikram Chandra. Three of them are with the same network — India Today, though ironically, their Hindi counterparts – Sweta Singh, Anjana Om Kashyap, and Chitra Tripathi all gain followers. It is not clear yet what drives the stagnation of following, but there is a statistically significant relationship between the stagnating followers and stagnating or reducing engagement from Twitter users (see table 1 below). Sudhir Chaudhary is another bubble that leans closer to the stagnators, but he does have a slow increase in followers and far more engagement than the others in that corner.
The other group, which includes anchors like Deepak Chaurasia, Rubika Liyaquat and Rajat Sharma among others have benefited from a massive increase in following over the last year. Rajat Sharma has more or less tripled his following since the start of 2020. This increase in followers is also positively correlated with the median likes (p=0.8), median retweets (p=0.7) and median replies (p=0.7) received by these journalists on their tweets in 2021. This is in statistical terms a massive increase, especially for journalists with already in excess of 1 million followers as a base starting point. This differential increase in followers clearly helped improve the performance (measured via said public metric) of tweets from this second group of journalists.
We do see one interesting pattern — that a small number of journalists who have either gone independent entirely or moved from large media channels to carving a niche audience through their online engagement tend to do well — thus Ajit Anjum, Abhisar Sharma, Sushant Sinha, and Rana Ayyub (who has lost some engagement in the last year), all of who have their own dedicated fan following and content creation online – whether through writings and text, or through videos, seem to gain more attention.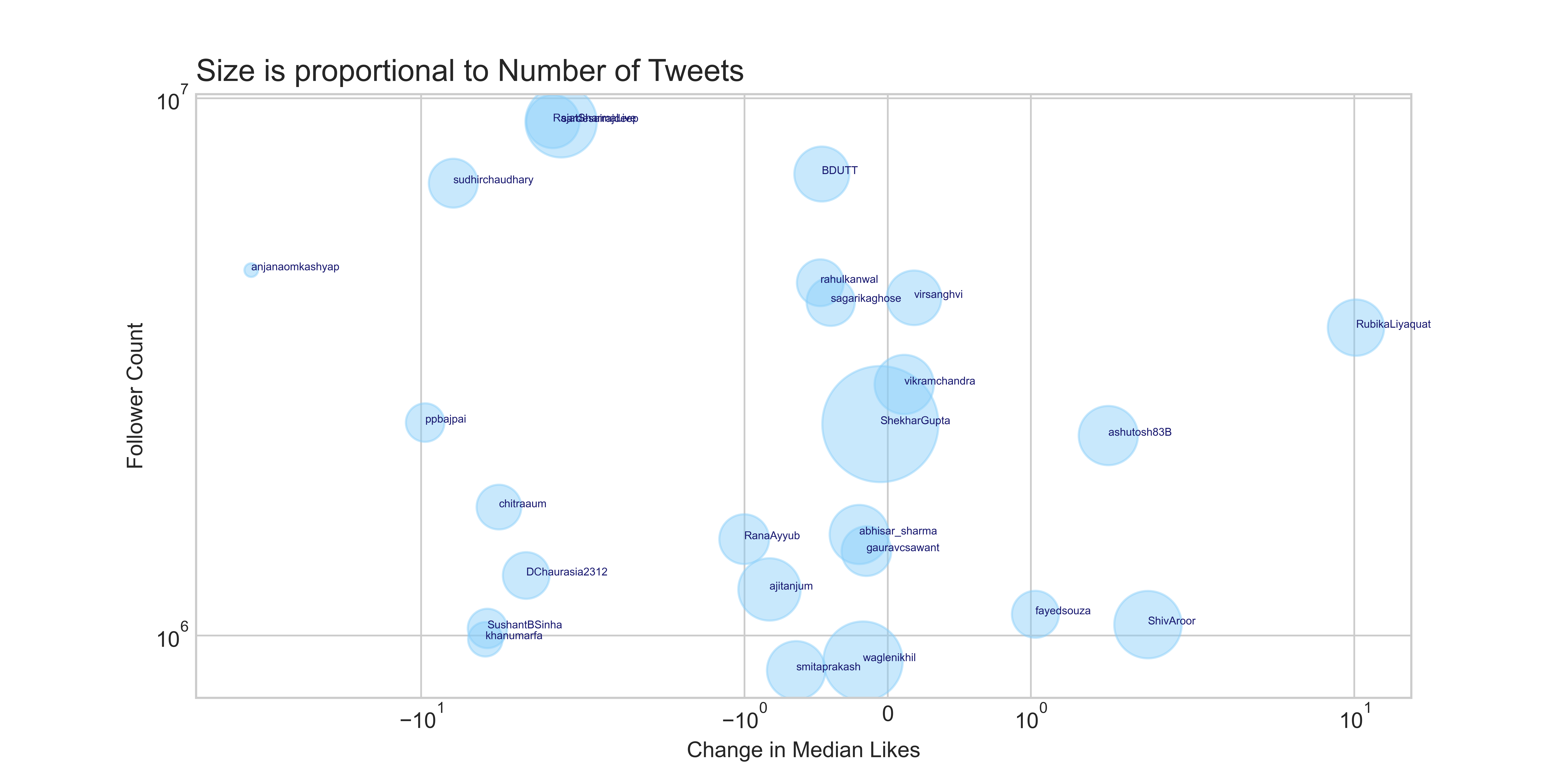 Figure 3: Changes in top highly engaged or followed journalists' engagement and following in 2021. Change in Median Likes (x-axis) is measured by the slope of the best-fit line along the median numbers of likes every day from Jan 2021 to Feb 2022
We see here that a clear pattern is not discernible, there are journalists whose work leans both pro- and anti-government who have either gained or lost followers in the last year, and whose engagement likewise has risen or dropped, and there are no statistically significant relationships that can be attributed to ideology.
Analysis
We see that there is a very strong, statistically significant relationship between increases in followers and corresponding increases in content engagement, even for the journalists with very high following. It is not clear from the analysis whether any clear intentionality can be proven – thus it is correct that a few accounts have stalled. While it has been proposed that this may be due to collusion between the government and Twitter, acting against journalists who do not toe a line, there are two other possible explanations, one related, and one unrelated.
The related explanation is that we see a rise in social media engagement across the board on pro-government and nationalistic messaging. The most viral messages are overwhelmingly from journalists who tend to be strongly pro-government. From eyeballing the 200 most "liked" messages from a journalist's account in 2021, we found only 13 from accounts of journalists who tend to be anti-government. We also see that even those viral messages that are anti-government, tend to have a more aggressive tone, suggesting that the clearing out is actually happening in the middle – journalists who don't take an explicit position are less likely to find high engagement online.
For instance, commentator Anand Ranganathan emerges as the country's most engaged journalist (in terms of retweets) closely followed by Deepak Chaurasia, Sushant Sinha and Suresh Chavankhe. All have an aggressive style with messaging — the latter three messaging largely in Hindi. For a sense of scale, each of them has over 30 times the average reach per message than either Rajdeep Sardesai or Barkha Dutt, who each have anywhere between 7 to 15 times the number of followers of these four. Essentially, what we are seeing is a small number of journalists with a very dedicated and highly engaged following, almost uniformly around very polarized content.
The second related explanation is the onset of Hindi as the major language of Twitter-based journalism in India. Research from two years ago showed that English-language journalists dominated Twitter in both following and engagement, but we see now on viral messages, Hindi tweets outperform English tweets by over 2:1. The two may come together to offer some explanations for the changing media ecology. Consumers of Hindi-language Twitter content are clearly increasing in number, as was recently seen in the massive increase in Hindi-language messaging by politicians.
A look at research from 2020 by Dibyendu Mishra, which shows the ideological spread of news channels based on their engagement by politicians shows that the majority of Hindi-language news tends to be more engaged by the ruling government, whereas the English-language news tends to be less engaged by the BJP, and more by the opposition politicians. While a correlation between this and the data on individual journalists can not yet be made, this is an interesting direction for future examination.
Figure 5: Visualization of key news sources on Twitter based on which politicians (BJP or non-BJP) retweet them. Positive value on x-axis (right corner) suggests more BJP engagement, negative value suggests more opposition engagement. Y-axis is n of engagements (Mishra 2020)
Data and Methodology
We manually selected a subset of 50 Indian journalists of repute from the larger dataset we created in earlier works. For each of these, we collected all their tweets from January 1, 2021 to Feb 4, 2022 using the Academic Twitter API (v2). This was a collection of over 150,000 tweets.
Measuring Rate of Change
To measure the rate of change of tweet-level public metrics (i.e retweets, likes, replies and quote tweets), we calculate the median value for these grouped by the day, for the entire time period of study (i.e January 1, 2021 to Feb 4, 2022). Then, we fit a Linear Regression model to each of these metrics. The slope of the regression line gives us a rate of change for these metrics. A positive value of high magnitude implies a sharp increase in a particular metric over time and vice-versa.
Measuring Change in Followers
To measure the change in the number of followers, we refer to data collected by our team on Jan 15, 2021 and compare the follower counts of the respective journalists to the present counts as on February 4th, 2022. To account for differences in the initial follower counts, we compute the percentage change as a more appropriate (relative) measure of change.
Relationship between key variables
| | | | | | |
| --- | --- | --- | --- | --- | --- |
| Pearson Correlation | Change in followers | Total followers | Median retweets | Median likes | Median replies |
| Change in followers | 1 | -0.418* | 0.791** | 0.805** | 0.719** |
| Total followers | -0.418* | 1 | -0.369 | -0.313 | -0.184 |
| Median Retweets | 0.791** | -0.369 | 1 | 0.969 | 0.824** |
| Median likes | 0.805** | -0.313 | 0.969 | 1 | 0.913 |
| Median replies | 0.719** | -0.184 | 0.824 | 0.913 | 1 |