Joyojeet Pal
(published at The Times of India, October 7, 2022: (https://timesofindia.indiatimes.com/india/can-boycott-bollywood-actually-bring-down-films/articleshow/94700163.cms)
Much has been written about the drivers and broader social discourse around Boycott Bollywood. Little, however, is discussed about exactly how these trends appear, and how, and why they build a media footprint. A recent study led by Sheyril Agarwal tracked the #BoycottBollywood movement to find that the movement both mirrors the network logic of other online campaigns, as well as a textbook case of how social media can drive mainstream news.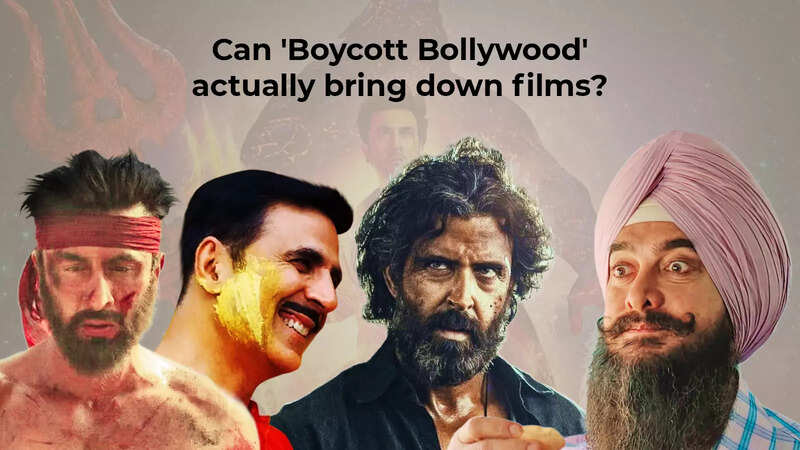 Anything said often enough, even if barely stuttering past a cacophony of incoherence, can be made to appear credible. Few platforms permit this with more celebration than Twitter. Daily trending topics appear on the right panel of the interface each morning, and well past the weekly calls for #Justice4SSR, #JohnnyDepp, and some variant of Gurmeet Ram Rahim have each trended for days on end. But for many of these trending topics, the endgame is just that hour spent on the sidelines of Indian twitterati's fleeting attention span. While it is unlikely you heard the calls for a Bharat Ratna for Gurmeet Ram Rahim, just about everyone, whether they had heard of Twitter or not, had been put through lurid conspiracy theories around Rhea Chakraborty, Baby Penguin, and of course, Pappu. The point is simple, when the conversation is driven by a group of trolls on social media, it largely stays there. But when the mainstream media colludes, social media is just the footnote reference for where it all began.
The first cases of systematic use of BoycottBollywood were in fact in Pakistan, part of efforts to undermine the hugely popular Indian films and film stars there. The systematic trending of #BoycottBollywood in India happened only after the Kathua rape case, in which a series of Hindi film stars posed with pictures denouncing the event. After the initial selfie-fueled love affair with Modi in the run up to, and after his 2014 win, it was the first time that the glitzy, big-name stars went up against the ruling party. It would also be the precipitating event for years of consistent anti-Bollywood social media messaging.
The Boycott Bollywood saga as we now know it today gained started gaining momentum and consistency around the end of October 2020. Subramanian Swamy, the self-appointed chief investigator in the Sushant Singh Rajput case had more or less stopped tweeting about it. Rhea Chakraborty was out on bail, Kailash VIjayvargiya had called it a joke. Few if any major influencers were talking about the case anymore and even Republic TV recognized the story had run its course. By the end of 2020, the SSR case, and its flag bearing crowd of SSRians had become the Indian equivalent of QAnon, an ultra-fringe community that you hoped none of your cousins retweeted. But even as SSR remained on top of the social media trending topics for two more years, the ringleaders who had trended hashtags and coordinated the SSRians had built little fiefdoms of their own. The tweets seeking justice for Sushant were soon accompanied regularly with calls to #BoycottBollywood. Eventually, the sideshow took centerstage.
The first round of attacks on Bollywood were for its perceived liberal slant, with occasional murmurings about the Khans and Bhatts. With the death of Sushant, the story switched first to nepotism and outsider victimization, followed by "Love Jihad" and barely veiled anti-Muslim content. The same small set of influencers who drove engagement with SSR content would come to be lynchpins of the trolling against Laal Singh Chaddha and Brahmastra.
But while the SSR community leaders and their followers were central to the explosion of Boycott Bollywood content in August and September of 2022, they had left behind the fringe community label, finding renewed fervour through the support of several mainstream influencers who joined the chorus against the film industry. By 2022, the negative sentiment towards the film industry was itself mainstream. The idea of the Hindi film industry as a cesspool of entitled anti-nationals was widely subscribed to, and found easy virality.
But the mechanics of how things went viral tell a story. First, the bigger the film, the more likely the attack was intense – Laal Singh Chaddha and Brahmastra got hugely trolled, Dobara and Darlings, much smaller budget films, got a lot less attacked. Indeed, a risk often is that the trolling may end up being good publicity. The strategy of attack with each of the films released in the last two months included both Twitter-based trolling and downvoting on rating platforms such as IMDB or Google. It also matters whether a film is going to theaters or straight to OTT platforms, since these can prioritize and push viewership irrespective of how social media talks about a film.
The #BoycottBollywood campaign used a number of the signature strategies of political or marketing campaigns. A number of ghost accounts, with no followers, aggressively engaged the #BoycottBollywood content. An alpha tweet, one which will shape the discourse, usually comes from a recognized account such as a politician with extreme views, a fringe media house like Sudarshan TV, or a digital influencer with tens of thousands of followers. These tweets then spread through a network, giving the idea buoyancy. Thereafter, building from individual messages to a coherent online phenomenon involves either a flash event of massive widespread interest, or a dedicated set of accounts doing the grunt work of repeated tweeting. Although the disenchantment of an increasingly polarized Twitterati was important, there was ample evidence to show that a small number of accounts did a massive amount of anti-Bollywood tweeting, especially around Laal Singh Chaddha and Brahmastra.
Perhaps the most unique facet of the boycott Bollywood engagement is the use of a distinction between the Hindi film industry and the South Indian film industry. Several successful remakes of South films, as well as the success of films like Bahubali, RRR, KGF, and Pushpa, which extended from their home audiences out to Hindi speakers through theatres or OTT platforms has created a new market of content. These films, ooze patriarchy, with unflappable heroes blowing away nemeses with quick flicks of their wrists, as dutiful women stand by. The stars of these films are used in a number of Boycott Bollywood memes, often juxtaposing a picture of a 'degenerate' Bollywood alongside the pious South industry – pictures of South stars at temples alongside Hindi stars partying, or Bollywood actresses posing their baby bumps alongside Saree clad south film actresses with their husbands and children. The message is that Bollywood is illegitmate, and what authenticity there exists in the Indian film industry comes from the South.
The irony of much of what passes under Boycott Bollywood does not stifle its phenomenal success in getting eyeballs. That the nepotism that Bollywood stars are attacked for is even more intense in the South – that Ram Charan, Allu Arjun, Prabhas etc. belong to film clans as entrenched as the Kapoors or Khans does not matter. The cover of nepotism that was once used to attack the industry has all but been abandoned for a direct assault on the real target – the notion of an influential industry that thrives on its secular credentials. One in which Muslim stars can rise to the top, and look perfectly indistinguishable from non-Muslim stars is entirely at odds with the India we inhabit.
Irrespective of #BoycottBollywood, if the way cinema has gone in the west is any indication, the theatre experience will increasingly move towards rewarding sensory overload. Arguably, Brahmastra had more going for it in terms of visual effects than any Hindi film in recent years, much like the Marvel spectacles that have so consistently offered winners for Hollywood. The story with Boycott Bollywood is less about the individual films that it seeks to undermine and more about the systematic exclusion of a massively influential source of soft power in Indian society. It is a story about how a ready ecosystem exists online to create convenient narratives overnight. And just as with the death of Sushant Singh Rajput, it was mainstream media's handshake that took something from Social media and aligned with a sanctioned consensus that there can be one, and only one idea of India.