Lalitha Kameswari, Joyojeet Pal
Abstract: We examined the activity on Twitter around the Aryan Khan case in October 2021, and found that the most retweeted messages were negative, often hateful messages aimed at the actor Shah Rukh Khan or his son, however that the hashtags more used were supportive of the star. We find that the majority of online trending activity, particularly around hashtags, was either driven by Shah Rukh Khan fan clubs, or by accounts that had pro-establishment proclivities. We also find that accounts that were likely to be lobbying for investigation into the Sushant Singh Rajput case were significant in trending anti-Aryan Khan material. We found that hateful messages had direct benefits for influencers who engaged in them — the top influencers who engaged in negative tweeting were likely to get significantly more retweeted on the issue.
To cite: (Kameswari, L., Pal, J., Viva Hate: The Aryan Khan Case on Twitter. Available online at http://joyojeet.people.si.umich.edu/AryanKhan)
Background
Indian movie actor Shahrukh Khan's son Aryan Khan was arrested by the Narcotics Control Bureau (NCB) on Oct 3, 2021, as part of a drug raid on a cruise ship off the Mumbai coast. According to NCB officials, narcotic drugs as well as Rs. 1.33 lakh in cash were recovered. Hours later, Aryan Khan and three others were arrested and presented before the court. The event started mainstream media coverage as well as a flurry of activity on social media around the case, and individuals related to it.
To examine this, we used the Twitter API to capture the original tweets that were circulated during the media cycle around the issue. We found 211,828 that referred explicitly to Aryan Khan during 2/10 the period between 30/10. Of these approximately 11,000 tweets were from verified accounts belonging to politicians, actors, media houses, etc. We collected the tweets by seeding based on Aryan Khan and Shah Rukh Khan, plus abbreviations. We also pulled all the hashtags and analyzed all that had 10 or more instances.
Top 10 Retweeted Tweets
A look at the top tweets around the Aryan Khan issue show that the negative tweeting which takes direct aim at the Khan family or decrying bail using whataboutery were the most engaged messages. There are five points at which we see a spike in viral tweets. The first is around the time of the bail application, and the most significant spikes are around his final hearing and release at the end of October.
We see in the list of most engaged individual tweets, all but one are major influencers whose messaging tends to be highly partisan — Anshul Saxena, Suresh Chavankhe, Abhijit Majumder, and Pradip Bhandari, all tend to be very pro-establishment, while others featured here include journalists who lean anti-establishment – Rohini Singh and Rana Ayyub, and members of the Congress party. The only odd tweet, in fact the most retweeted, came from a relatively marginal influencer, Yogesh Singh. In Table … below, we have the tweets that were the most engaged, some patterns emerge in these.
First, we see that all the tweets that took an oppositional position to Aryan Khan use another figure, usually one vilified by the right, some alternate person or group. Likewise the highly engaged messages from the side supporting Aryan Khan were often critical of the state.
Date
Time
Username
Tweet
RT count
2021-10-29
11:58:15
yogeshpsingh
This whistleblower actress,with 1 Yr old child on mothers milk,was framed by cruel police officers Param Bir Singh & Pradeep Sharma. 4 yrs in Jail, weeping for her orphaned child, in 3 yrs High Court did not give her even one bail hearing on merits … and what about Aryan Khan! https://t.co/cYOzLfZcSE
10377
2021-10-11
04:53:21
AskAnshul
The Wires Arfa Khanum played Muslim victim card because Aryan Khan isnt granted bail.

But, is Aryan Khan the only one who didn't get bail?

8 people arrested in drugs case: Munmun, Vikrant, Arbaaz, Mohak, Ishmeet, Gomit, Nupur, Aryan

Why using victim card for only one person?

7930
2021-10-10
04:13:51
SureshChavhanke
I am boycotting all these brands which are endorsed by Shah Rukh Khan @iamsrk ,below the list

@bigbasket_com

@HyundaiIndia

@Frooti

@DDecorDiaries

@FairNdHandsome

#Emami

@ICICIBank

#FoodPanda

@reliancejio

@dubaitourism

#Boycott_SRK_Related_Brands

https://t.co/HSrF3KRMyS

5768
2021-10-21
13:50:42
ShayarImran
इस वक्त पूरे देश को @iamsrk के साथ खड़ा होना चाहिये । https://t.co/e2zsiPdjCU
4346
2021-10-28
13:01:57
RanaAyyub
Now that Aryan Khan has got bail, can we turn our attention to the less privileged. Can we talk about the flames of hate that have engulfed #Tripura
3705
2021-10-21
03:12:24
KapilSibal
Aryan Bail Rejection

New Jurisprudence :

If I am not in possession

How can I be found to be in  conscious possession

If a friend consumes a few grams of charas sitting next to me will I be charged for  conscious consumption  !

3607
  2021-10-21

12:14:12
abhijitmajumder
Hard to get bail under NDPS Act. SRKs son Aryan Khan is getting quick hearings. Lesser mortals don't get dates even in a year. They can't afford Satish Manshinde even for 10 min. If judge buckles under pressure from the SRK ecosystem, itd set a terrible precedent of VIP racism.
3567
2021-10-24
07:59:24
rohini_sgh
With the damning new revelations on the #AryanKhanCase it is becoming abundantly clear that @iamsrks son was kidnapped, ostensibly, by government officials and an extortion call was made to release him. A serious crime has been committed. This is what our agencies are doing.
3464
2021-10-04
17:20:37
Srivatsayb
This is how brutally and in cold blood the farmers of India are being MURDERED in Modi's rule.

From JAI KISAN, its become MARO KISAN in the Goonda Raj of Adityanath.

While Media & Judiciary focus on Aryan Khan, farmers are being martyred in the fields.

https://t.co/cOyjjEWLA1

3449
2021-10-27
09:21:04
pradip103
Nawab Malik is using #AryanKhanDrugCase to settle score with #SameerWankhede. It's not about Aryan bail anymore, sooner or later he could get it, but it's about a politicians vendetta against an honest officer who is committed to नशा मुक्त भारत।
3307
Table 1: Ten most engaged messages with reference to Aryan Khan in the study period
Hashtag Activism
The most interesting activity, and traces of collusive social media engagement are seen in the ways that hashtags trend. We see behaviour that strongly suggests that teams on both sides of the issue engaged in a concerted and collaborative way to make certain narratives work. While this has been discussed in past examinations of organized trolling, the activity is clear in the tweet traces around the Aryan Khan arrest case. We discuss the specifics later in this section.
While there were some neutral hashtags that held consistent through the entire period including #AryanKhan and #SRK, there were two blocks of hashtags that specifically expressed support or opposition for Aryan Khan. First, on the side that expressed support, there was a mix of hashtags that were general support messages, while on the side that expressed opposition, the construction of hashtags was either around generic opposition to 'Bollywood', or specific callouts against the star's son.  We see however that the support messages were significantly over engaged than negative hashtags. Two notions that are frequently used in online trolling — Bollywood and Drugs, which have grown consistently since the Sushant Singh Rajput case, are seen here in the framing of the hashtags. The new term that emerged out of the case was "Nashedi' or 'नशेड़ी' (a Hindi term to refer to an addict, here in the context of drugs), which was one of the top five negative hashtags by count and used to systematically engage the crowd.
The top negative hashtag is #BoycottBollywood. Interestingly, one of the top tweets, from television anchor Suresh Chavankhe, asked for a boycott on Shah Rukh and products associated with him. The boycott and attacks on Byju's specifically have also been tried in the past, most significantly in late-2020, as part of a broader attempt to undermine the careers and finances of Shahrukh, Salman, and Aamir Khan, in part driven by users on Twitter engaging the Sushant Rajput-related content. We find that the Byjus paused the association with Shah Rukh Khan on the same day that the calls for the boycott began, and while we cannot attribute causality, we also see that the very next day, the calls to economically attack Shah Rukh increased significantly.
Top 5 Positive and Negative Hashtags
| | | | |
| --- | --- | --- | --- |
| Hashtags | Count | Hashtags | Count |
| #Westandwithsrk | 57114 | #Boycottbollywood | 16073 |
| #Westandwitharyankhan | 42268 | #Nobailonlyjail | 7168 |
| #Welcomehomearyankhan | 38433 | #Nobailtoaryankhan | 6012 |
| #Releasearyankhan | 32788 | #Bollywooddruggies | 5718 |
| #Istandwithsrk | 27280 | #srk_का_बेटा_नशेड़ी | 3850 |
Table 2: Ten most engaged polarized hashtags with reference to Aryan Khan in the study period
Another trend we see is of opposing hashtags — in each case one hashtag trended, and was followed briefly by another hashtag. This suggests that vested interests actively engaged online to make one or another narrative more dominant. Once the Sameer Wankhede angle became viral in the public discourse, following a tweet by journalist Rohini Singh, there were a number of tweets related to him.
A hashtag, #ncbextortionexposed was followed by #nationwithsameerwankhede, which was in turn followed by #targetwankhede. Thereafter, another trending hashtag supporting Wankhede, #supercopsameerwankhede was followed by #sameerwankhedefraudhai. Similarly, when Aryan Khan was released, #welcomehomeprincearyan started trending, which was quickly followed by #welcomehomenashedi. In general, we see that the opposing camps are very clued into what the other side is doing, since the counter hashtags always occur on the same day, usually within the hour. For instance, when शाहरुख_खान_गद्दार_है was first used on Oct 10, the day that concerted efforts to economically impact Shah Rukh intensified, but within 30 minutes of that hashtag appearing, शाहरुख_शान_है_भाजपा_गद्दार also started trending. This suggests that the groups pushing both narratives are listening into what the other side is doing, and able to react very quickly.
The arrest of Khan also intersected with the Lakhimpur Kheri incident in Uttar Pradesh in which four farmers were killed after intentional impact by a convoy of cars, one of which belonged to BJP leader and union minister of state Ajay Mishra Teni's son, Ashish Mishra. While there was some intersection in messaging, mostly around the inordinate coverage of Khan while the graphic deaths, some shot live on camera, got a lot less attention, there was also some attempt to connect the two cases as emblematic of state-citizen relationships through hashtags like #godimedia, #farmersprotest, #lakhimpurkheri co-occurring in Aryan Khan related tweets. One other intersection is also seen in the data – with Gautam Adani. Since the case dealt with drugs, around the same time therew as a large haul of narcotics at Adani's port, leading to messaging on whataboutery on Adani's relative insulation from arrest and prosecution.
To see whether collusion took place, we examined ten hashtags, each of which had a near opposite hashtag that took place around the same time. These were (1) #sendaryankhantojail (2) #nobailonlyjail (3) #even_modi_needs_brandsrk (4) #boycott_srk_related_brands (5) #शाहरुख_शान_है_भाजपा_गद्दार (6) #शाहरुख_खान_गद्दार_है (7) #sameerwankhedefraudhai (8) #nationwithsameerwankhede (9) #nobailtoaryankhan (10 #releasearyan_he_is_innocent
We find two clear patterns. First, that all the pro-Aryan Khan hashtags were driven by accounts purporting to be fans of Shah Rukh Khan, most of these accounts had followers in the hundreds, but a few with a few thousand followers including @BrijwaSRKman and @JoySRKian_2 were important nodes in trending content (these accounts are called out since they are public). Interestingly, the biggest online fan club of Shah Rukh Khan, @SRKUniverse, said very little about the case while the police action was ongoing.
However, the hashtags opposed to Aryan Khan also had similar patterns – the first few timestamped tweets were from less known accounts – thus the seeding is done through unspecified public accounts such as: @TruthReveil91, @Real_Gaurav_1, @_Saffron_girl_, while the actual trending is done when major accounts like @NainVikash, @IPpatel @SudarshanTVNews engage the hashtags. This trend is consistent with what we see in other forms of influencer behavior online as well, in which a nodal account avoids direct confrontational engagement, while less important accounts with less to lose engage in the activity of starting the fire.
Another pattern we see here is the intersection of Sushant Singh Rajput fans with the anti-Aryan Khan messaging. We found widespread overlap between accounts claiming to be affiliated to calls for justice for the deceased actor with lobbying social media to keep Aryan Khan jailed. One of the most prominent and effective spreaders of messaging around the anti-Aryan Khan material was an account @ErayCr, belonging to one Eray Cather, an individual who per their profile was once a social media manager for a Shah Rukh Khan film, but now a nodal account for activism related to Sushant Rajput.
;
Influencers
A number of influencers spoke up in support of Shah Rukh Khan from early in the arrest cycle. Former media personality Pritish Nandy was the first to speak up in his support, and later on in the cycle of tweeting,  Eventually, several widely followed public figures spoke up in favour of Aryan Khan including Urmila Matondkar, Shekhar Suman, Shashi Tharoor, and Pooja Bhatt.
We found that on the side that featured on the networks of the most viral messages and hashtags opposed to Aryan Khan were a number of very popular accounts that typically go to bat for the government. These include @thakkar_sameet, @exSecular, @indiantweeter, @iankursingh, and @abdullah_0mar. Interestingly, all except @abdullah_0mar are followed by Prime Minister Modi. The account attributed to Sameet Thakkar was by far the most engaged account during the entire period studied in terms of both retweets and likes. The news channel Jan Ki Baat and its anchor Pradeep Bhandari were the accounts with the maximum engagement on the issue.
To examine the role of influencers in tweeting, we looked at the key engagements from influencers. We found that the tweets from influencers are largely skewed in favour of Aryan Khan. We hand-coded the top 100 tweets, and found that 18 tweets were explicitly negatively positioned towards Aryan Khan, 60 are in support or in explicit opposition to the agencies' handling of the case, and 22 are neither explicitly supportive nor negatively positioned.
However, the negative messaging has much greater affective appeal. So while a smaller number of public figures took positions, those that did got significantly higher engagement than those that did not.
| | | | | |
| --- | --- | --- | --- | --- |
| | Avg RT | Median RT | Avg Likes | Median Likes |
| Negative | 3207 | 2463 | 11205 | 9280 |
| Positive | 1944 | 1756 | 9611 | 8616 |
| Neutral | 2099 | 1965 | 8365 | 8664 |
Table 3: Engagement ratios by polarization, or messages with reference to Aryan Khan in the study period
We plotted the rate of retweets that influencers got when they engaged the Aryan Khan subject. In all cases, tweets on the Aryan Khan case got more throughput than whatever the influencer got on a message on other subjects (measured over their last 50 tweets). In effect, since the Aryan Khan situation was newsworthy, influencers got attention from talking about it, whether negatively or positively. Some of the highest throughput to tweeting came to the tweeters who were negative, as we see in figure 1 below.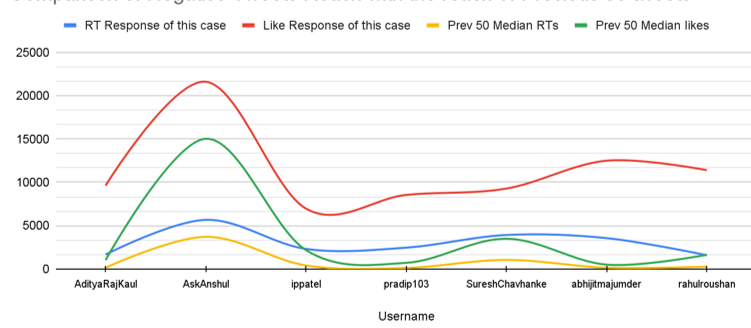 Most influential voices from individual accounts on the Aryan Khan Case, as measured by direct retweets and likes to original content, excluding retweets.
| | | | | |
| --- | --- | --- | --- | --- |
| Account | Number of Tweets on the case | Number of Retweets | Number of Likes | Overall position on Aryan Khan case |
| @thakkar_sameet | 49 | 43137 | 181205 | Anti-Aryan |
| @ss_suryawanshi | 116 | 33046 |  120165 | Pro-Aryan |
| @pradip103 | 15 | 32871 |  114335 | Anti-Aryan |
| @bainjal | 45 | 29547 |  128097 | Pro-Aryan |
| @iamsrk_brk | 68 | 27739 |  77689 | Pro-Aryan |
| @vinodkapri | 10 | 17647 |  64666 | Pro-Aryan |
| @rohini_sgh | 9 | 16260 |  67735 | Pro-Aryan |
| @BrijwaSRKman | 48 | 13416 | 20530 | Pro-Aryan |
| @ErayCr | 36 | 13083 | 30804 | Anti-Aryan |
| @AskAnshul | 2 | 11349 | 43235 | Anti-Aryan |
Table 4: Ten most engaged individuals tweeting about Aryan Khan in the study period
Most active media accounts on the case, as measured by direct retweets and likes to original content, excluding retweets
| | | | |
| --- | --- | --- | --- |
| Account | Number of Tweets on the case | Number of Retweets | Number of Likes |
| @ANI | 64 | 31531 | 230301 |
| @jankibaat1 | 381 | 22574 | 79809 |
| @barandbench | 212 | 18807 | 84566 |
| @republic | 520 | 12501 | 66870 |
| @OpIndia_com | 65 | 11341 | 42106 |
Table 5: Five most engaged media channels with reference to Aryan Khan in the study period
In terms of the media channels which covered the story the most, we see that Republic TV has by far the highest number of tweets on the case, but did not get as engaged. In contrast, two media channels which lean relatively more to the right of @republic – opindia and jankibaat1 were more actively engaged for their material on the case. ANI in general gets high engagement because it acts as an aggregator of news, but interestingly BarAndBench, which is a media channel that reports on legal matters, came into much prominence as a result of this case.
In conclusion, we find that the engagement over the Aryan Khan case has important features of how oppositional Twitter wars take place. The interesting aspect of this case is not that the Shah Rukh Khan fans came in on the side of the star's son, but that accounts that typically support the national government came down strongly against his bail application.
Authors:
Lalitha Kameswari, IIIT Hyderabad
Joyojeet Pal, University of Michigan
The work here represents the views and research of the individual authors, and not those of the organizations that they are part of.