Arshia Arya and Joyojeet Pal
(Cite A Arya, J Pal. 2021. What Drives Twitter Following of Indian Politicians? Online at http://joyojeet.people.si.umich.edu/TwitterFollowingPoliticians)
We traced the social media following of politicians in India between December 2020 and March 2021, the key phase of the farmer protests in India as well as the run up to several assembly elections. We tested the data for politicians with over 100,000 followers on Twitter present the key patterns we found.
First, the politicians who added the most followers in aggregate number are those who already build on a base of high following (as seen in Table 2), so no surprises there, that Narendra Modi stays on top, followed by Amit Shah and Rahul Gandhi. Interestingly Yogi Adityanath is consistently the fastest growing politician in among those with 1 million plus following, racing past some of the earlier more followed politicians including Rajnath Singh, Shashi Tharoor, Nitin Gadkari, Piyush Goyal to inch towards Rahul Gandhi. Arvind Kejriwal remains the third most followed politician in India.
Figure 1: Log scaled table of the key gainers of following (y axis) and twitter engagement (x-axis, measured as median retweets). The size of the bubbles are proportionate to the following of the politician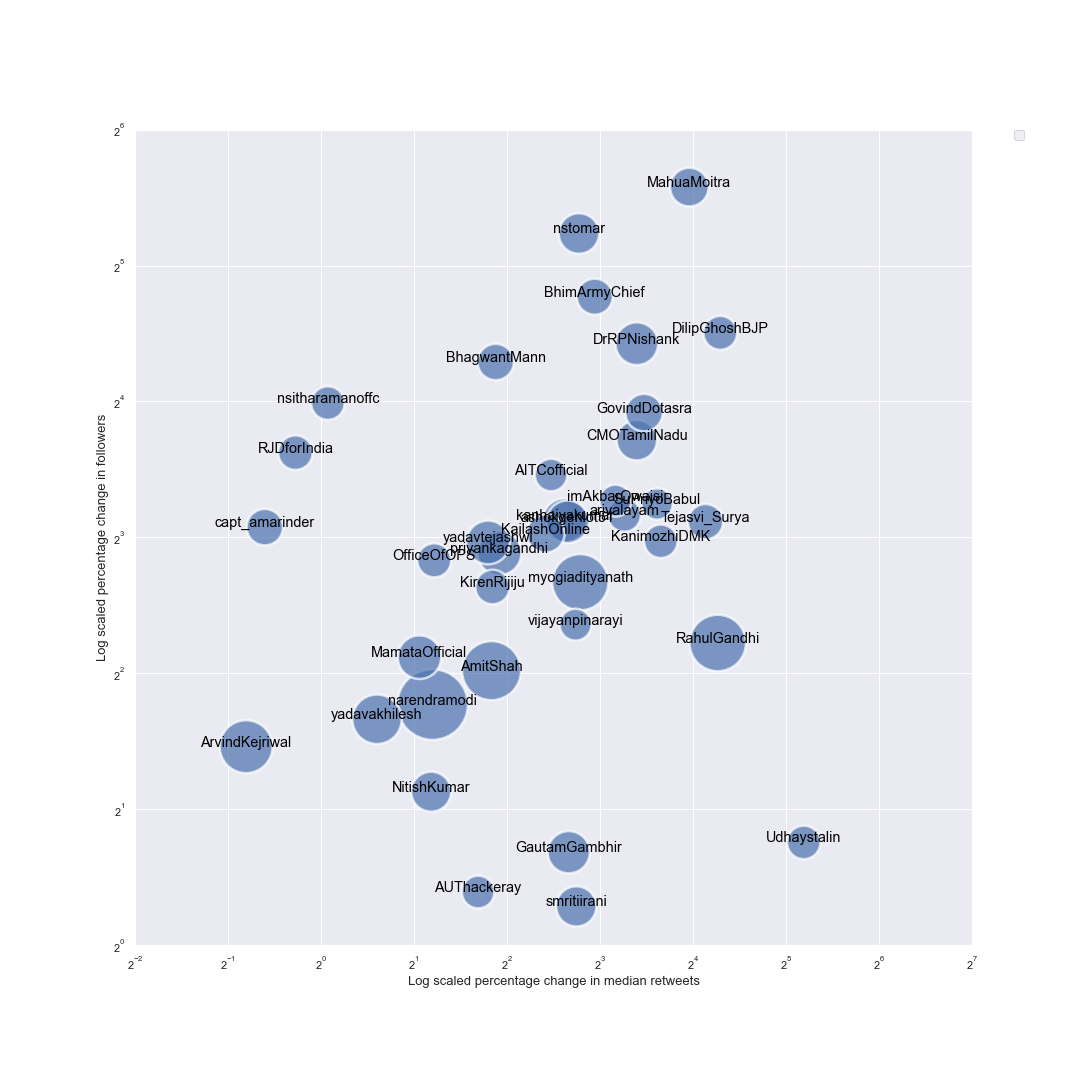 To check the robustness of our data, we tested who were the accounts that lost the most followers or stagnated, these include Ananth Kumar, Arun Jaitley, Pranab Mukherjee, Ahmed Patel, Ram Vilas Paswan, Manohar Parrikar – all of whom have died in recent years.
The other accounts that have either stagnated or lost followers, some of which are visualized in Figure 1 include Sushil Modi, Suresh Prabhu, Omar Abdullah, Sambit Patra, Jayant Sinha, Kiran Bedi, Maneka and Varun Gandhi, Raman Singh, and Pravin Togadia. The reasons for these may be several, but one likely possibility is their diminishing centrality to politics either due to losing their elected positions (Raman Singh, Jayant Sinha, Sushil Modi, Kiran Bedi etc), reducing in relevance due to structural factors (Omar Abdullah, Pravin Togadia etc), or possibly falling out of favour with the party.
Another set of major political influencers without elected positions who have stagnated or started losing followers include Amit Malviya, Tajinder Bagga, Khushbu Sundar, Sambit Patra, Shazia Ilmi, and Swapan Dasgupta.
The most significant gainer among the members of parliament is Mahua Moitra, in the aftermath of her feisty speech in parliament. A number of the key gainers are in the states of West Bengal and Tamil Nadu, gearing up for elections. One party that saw uniform gains of over 5% growth for each of its three key accounts was AIMIM – besides the party handle, both Asad and Akbar Owaisi gained significant following online in this period.
Other gainers are politicians who were politically important in the last few months for a range of reasons. These include NS Tomar, as the main face of the government during the farmers' protests, Chandrashekhar Azad, for the Bhim Army's activities around caste based violence (and his own inclusion in Time Magazine's 100 emerging leaders). Another key gainer was Bhagwant Mann, who has emerged as an important leader following the farmer agitations.
Table 1: Top 10 Political handles in rank order with highest percentage increase in followers Dec 2020 – March 2021 (min threshold 100,000 followers on Dec 1, 2020)
| | | | | |
| --- | --- | --- | --- | --- |
| Twitter Handle | Name | Followers added Dec 20-Mar21 | party | Percent Increase in Followers |
| EPSTamilNadu | Edappadi Palaniswami | 76375 | AIADMK | 57.1% |
| MahuaMoitra | Mahua Moitra | 110412 | AITC | 47.7% |
| nstomar | Narendra Singh Tomar | 144905 | BJP | 37.7% |
| VarshaEGaikwad | Varsha Gaikwad | 42948 | INC | 33.0% |
| BhimArmyChief | Chandrashekhar Azad Ravan | 72337 | Bhim Army | 27.3% |
| BJP4Bengal | BJP Bengal Official | 51659 | BJP | 24.6% |
| shalabhmani | Shalabh Mani Tripathi | 47363 | BJP | 23.3% |
| RealBacchuKadu | Bacchu Kadu | 37258 | IND | 22.8% |
| DilipGhoshBJP | Dilip Ghosh | 47836 | BJP | 22.7% |
| drnarottammisra | Narottam Misra | 37067 | BJP | 22.2% |
West Bengal leaders including Babul Supriyo, Dilip Ghosh, as well as those active in Bengal including Kailash Vijayvargiya on the BJP side, and Mamata Banerjee and Abhishek Banerjee on the AITC side gained followers significantly. Both the BJP and AITC official handles for West Bengal gained over 10% following in this period alone. CPM leaders have been more or less absent on Twitter for West Bengal, but Pinarayi Vijayan has had a large jump in followers online.
Besides checking the changes in following, we also tested the monthly median retweets of the various politicians to look for trends. We find that Mahua Moitra is by far the leader, since she has both gained followers and had significant increases in the extent to which she is retweeted. Other leaders who have seen marked increases in engagement with their content include Rahul Gandhi, education minister Ramesh Pokhriyal, and Bangalore MP Tejaswi Surya, who is an increasingly dominant figure on Twitter among Karnataka politicians.
Figure 2: Timeline of Mahua Moitra's Twitter engagement growth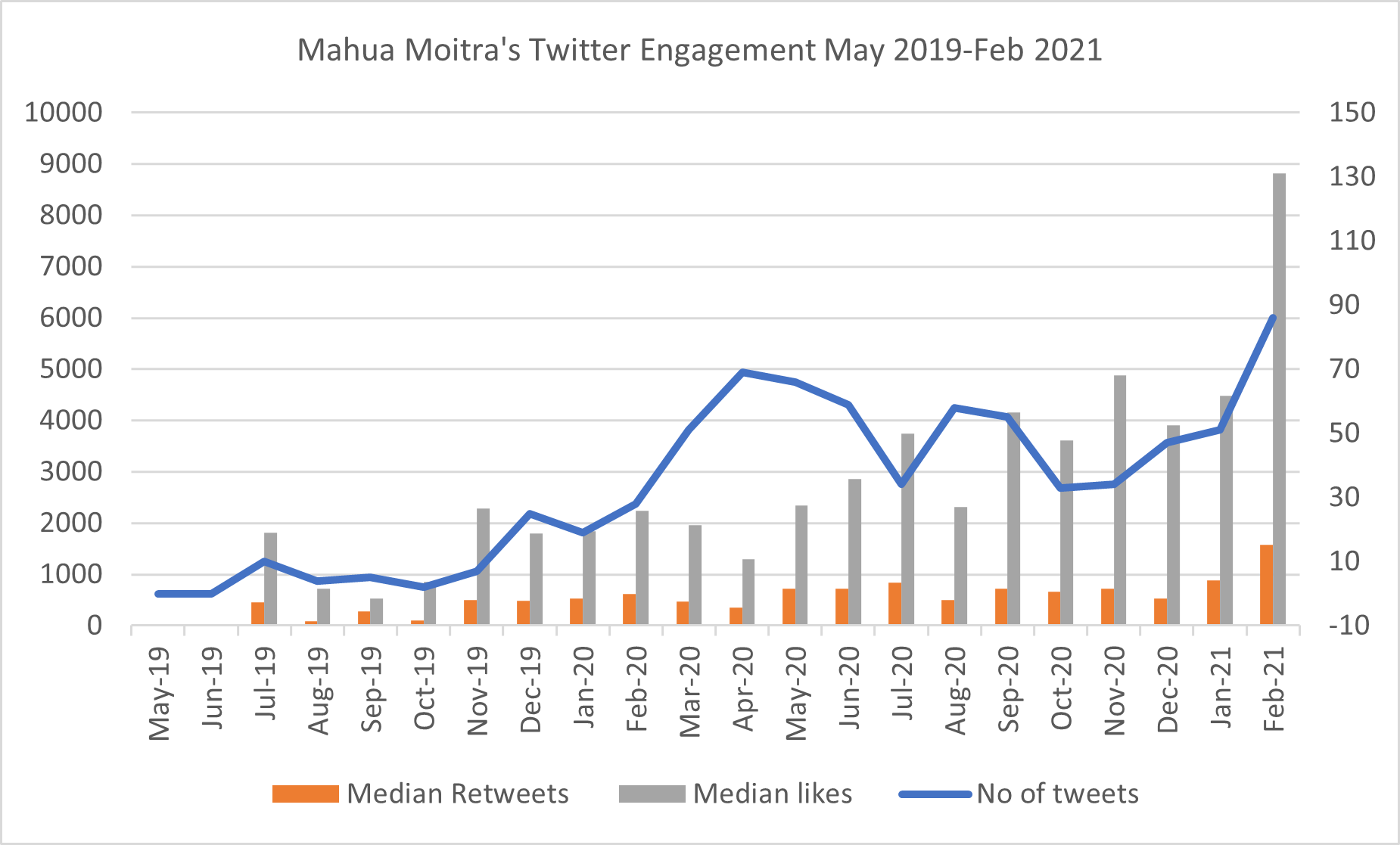 From having Mahua Moitra has dramatically increased the engagement she gets on social media, at this point, on average, she gets as much engagement per tweet as Amit Shah, who has about 30 times the number of followers on Twitter. Her outsize effect is despite the conservative volume of tweeting, but the messaging itself is anything but. Her tweet from May 2020, in the aftermath of the horrific migrant crisis, was among the most retweeted messages from a politician in India. At a time when opposition leaders were still being cagey about how to confront the BJP politicians' handling of the situation, Moitra openly attacked the weakened institutions, something politicians have been loathe to do in India. While Moitra stands out among her parliamentary colleagues for the precision, tone, and delivery of her speeches in parliament, often to jeering men, her social media output has been equally effective, despite the efforts to undermine and shout her down here as well.
Figure 3: Timeline of Mahua Moitra's Twitter engagement growth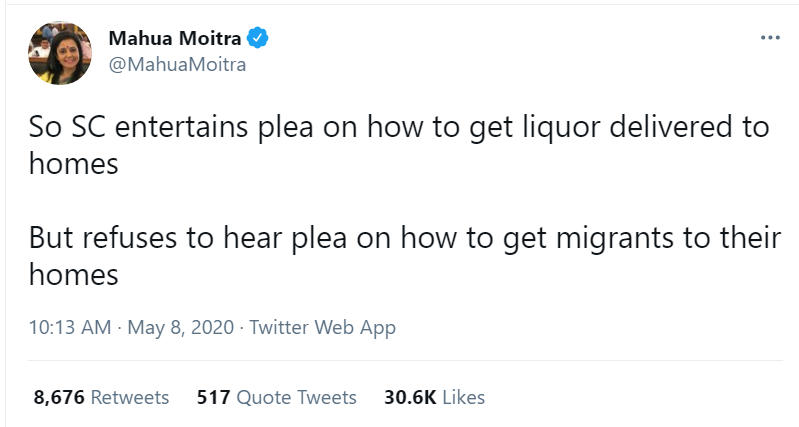 Tamil Nadu politicians, including the DMK Official Handle and those of Kanimozhi and Udhayanidhi have both seen significant increases in engagement in the run up to the state elections. Dalit leader Thol Thirumavalavan is also among those who have seen an increased presence and engagement in this period.
Table 2: Top 10 Political handles in rank order with highest aggregate increase in followers Dec 2020 – March 2021
| | | | | |
| --- | --- | --- | --- | --- |
| Twitter Handle | Name | Followers added Dec 20-Mar21 | party | Percent Increase in Followers |
| narendramodi | Narendra Modi | 2184948 | BJP | 3.4% |
| AmitShah | Amit Shah | 969569 | BJP | 4.1% |
| RahulGandhi | Rahul Gandhi | 788770 | INC | 4.7% |
| myogiadityanath | Yogi Adityanath | 772636 | BJP | 6.4% |
| ArvindKejriwal | Arvind Kejriwal | 578489 | AAP | 2.7% |
| BJP4India | BJP National Handle | 554695 | BJP | 3.7% |
| rajnathsingh | Rajnath Singh | 519613 | BJP | 2.7% |
| yadavakhilesh | Akhilesh Yadav | 415227 | SP | 3.2% |
| INCIndia | INC National Handle | 301141 | INC | 4.1% |
| PiyushGoyal | Piyush Goyal | 285412 | BJP | 3.0% |
Finally, we see the list of politicians who have lost followers. While the numbers may seem small, politicians do not typically lose followers, thus very small gains in followers can also be considered a drop in popularity. Thus even small numbers of lost followers have significant meaning for the diminishing importance of these politicians during the time period selected. All the politicians in this list, except Milind Deora and Pravin Togadia, are from the BJP. (Khusbu Sundar had moved from INC to BJP) Togadia is technically independent at this point.
Table 3: Top 10 Political handles (of living politicians) in rank order with highest percentage decrease in followers Dec 2020 – March 2021 (min threshold 100,000 followers on Dec 1, 2020)
| | | | | |
| --- | --- | --- | --- | --- |
| Twitter Handle | Name | Followers lost Dec 20-Mar21 | party | Percent Loss in Followers |
| SushilModi | Sushil Modi | 9608 | BJP | -0.4% |
| DrPravinTogadia | Pravin Togadia | 1133 | – | -0.4% |
| TawdeVinod | Vinod Tawde | 3144 | BJP | -0.4% |
| jayantsinha | Jayant Sinha | 954 | BJP | -0.3% |
| khushsundar | Khushbu Sundar | 3137 | BJP | -0.2% |
| shaziailmi | Shazia Ilmi | 869 | BJP | -0.2% |
| S_MahajanLS | Sumitra Mahajan | 584 | BJP | -0.2% |
| sambitswaraj | Sambit Patra | 7203 | BJP | -0.2% |
| sureshpprabhu | Suresh Prabhu | 6774 | BJP | -0.2% |
| milinddeora | Milind Deora | 77 | INC | 0.0% |