Sheyril Agarwal and Joyojeet Pal
To cite this article: Agarwal, S. and Pal, J. (2023) Enter a new enemy: George Soros and Indian Twitter. Available online at http://joyojeet.people.si.umich.edu/soros/
Billionaire George Soros has for several decades enjoyed a James Bond villain type aura in large parts of the Western world. Into his 90s, he remains one of the most abused people on social media. His philanthropic organization, Open Societies Foundations, remains one of the few global donors that has consistently funded causes and individuals working on accountability and inclusion, in the stated interest of greater democratization. This motivation, often equated with support for dissidents and political opposition to power, has traditionally landed him in the crosshairs of political leadership wherever his funding goes.
His largesse, driven by stock market transactions that precipitated financial crises, has typically been used against him as a normative reason for disdain, and to see his work on open societies as either penance or a smokescreen for larger global domination. The two themes that have been consistent in the Soros detraction. The first is his idea of Open Societies, which, in its pursuit for inclusion, is generally seen as a gateway for diluting the dominant groups in political systems. Thus a range of causes such as minority rights, immigration, gender diversity, which tend to be driven by progressives, are on the wrong side of conservative politics. These help cement the notion of Soros as a manipulator from the outside, attempting to change the fundamental nature of social and political systems. The second consistent theme is anti-Semitism, which while rarely spoken out loud, feeds on the idea of Soros as a Jewish financier with evil unstated intent.
While several Western nations, most prominently Hungary, Poland, and the United States, have seen strong campaigns presenting Soros as an alternate villain during elections, he has for the first time become a widely talked-about figure on social media in India. This was driven by his
his comments on Modi and democracy at a conference in Munich, where he specifically called to question the quality of Indian democracy, especially for Muslims, under Modi and the role of crony capitalism in its continuity.
The comments triggered a slew of responses, which we studied to understand the discursive trends used to attack Soros in a society where he is a relatively unknown figure.
Methodology
To capture tweets in which George Soros is mentioned in India's context, we examined tweets authored by accounts from two databases. Nivaduck, which contains information on nearly 40,000 Indian politicians and DISMISS, which has over 11,500 accounts further classified as journalists, social media influencers, media houses, and so on. We limit our search to tweets created in the time period between 1st January 2023 to 14th April 2023. From this collection, we filter relevant tweets by doing a string match with the keywords "George Soros" or "Soros'.
This yielded us a total of 8,490 tweets that mentioned George Soros and were authored by prominent Indian social media accounts. Out of these, 3,703 were either original tweets, replies or quotes while the remaining were retweets.
Findings
We have one major quantifiable finding – that the main driver of content on Twitter was not journalists, media houses, or even politicians, but rather influencers. Even with far smaller social media following, these influencers were able to receive far more engagements in terms of retweets as compared to other groups. For this, we specifically focus on account groups like journalists, politicians and media houses. We ran pairwise T tests for retweets accrued by influencer accounts compared to each other group suggest that influencers get significantly more retweets than any other group, with approximately 8-fold increase in the median retweet count.
We now discuss our main findings through representative tweets that highlight each theme.
First up, we find that Soros was already a boogeyman for the Indian right, and there have been several sporadic mentions of Soros as a 'behind the scenes' operator. Even in the months leading up to the Feb explosion of social media activity, there were several viral anti-Soros messages from social media accounts belonging to right-wing Indian influencers.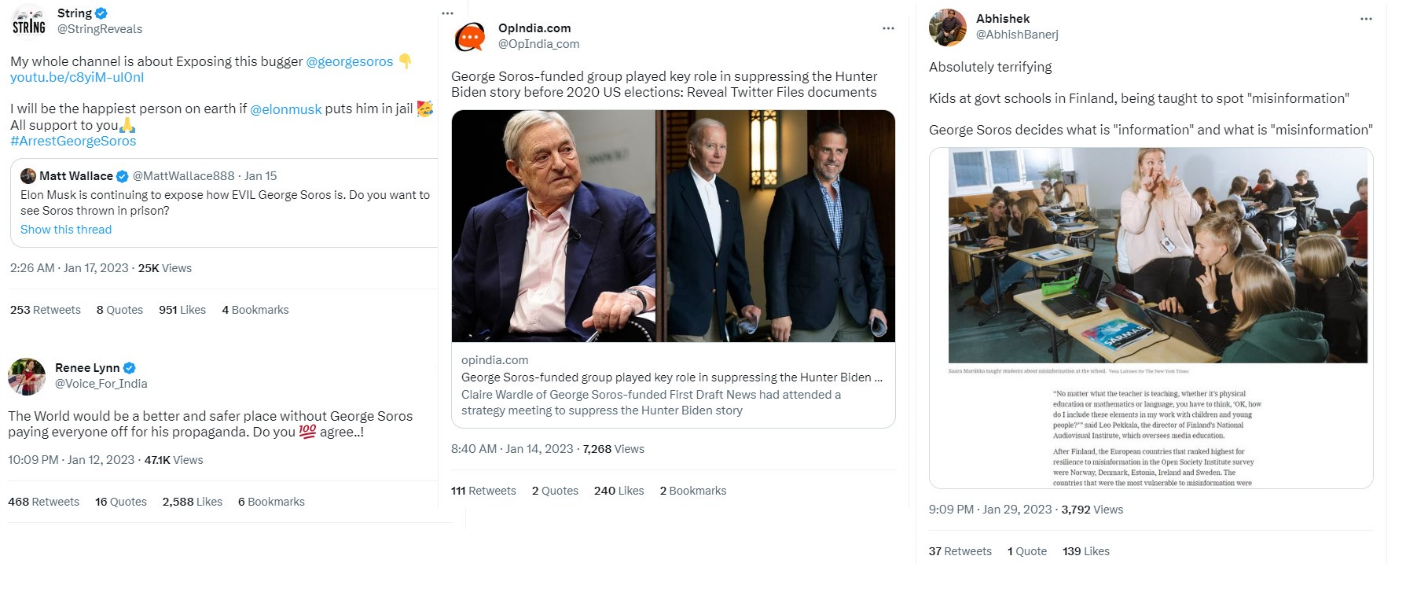 As is typical in these incidents of commentary on India from someone who is not Indian, such as the tweet on the farmer protests by Rihanna, there was an immediate and coordinated backlash of messaging. Here, we see a series of messages from social media influencers, each with the same style – a block of text quoted above a clip from Soros' talk, several using the exact quote by Soros.
These appeared in intervals in the two days following Soros' speech, most were retweets of a video with the watermark of "Political Kida" a right-wing influencer account in India.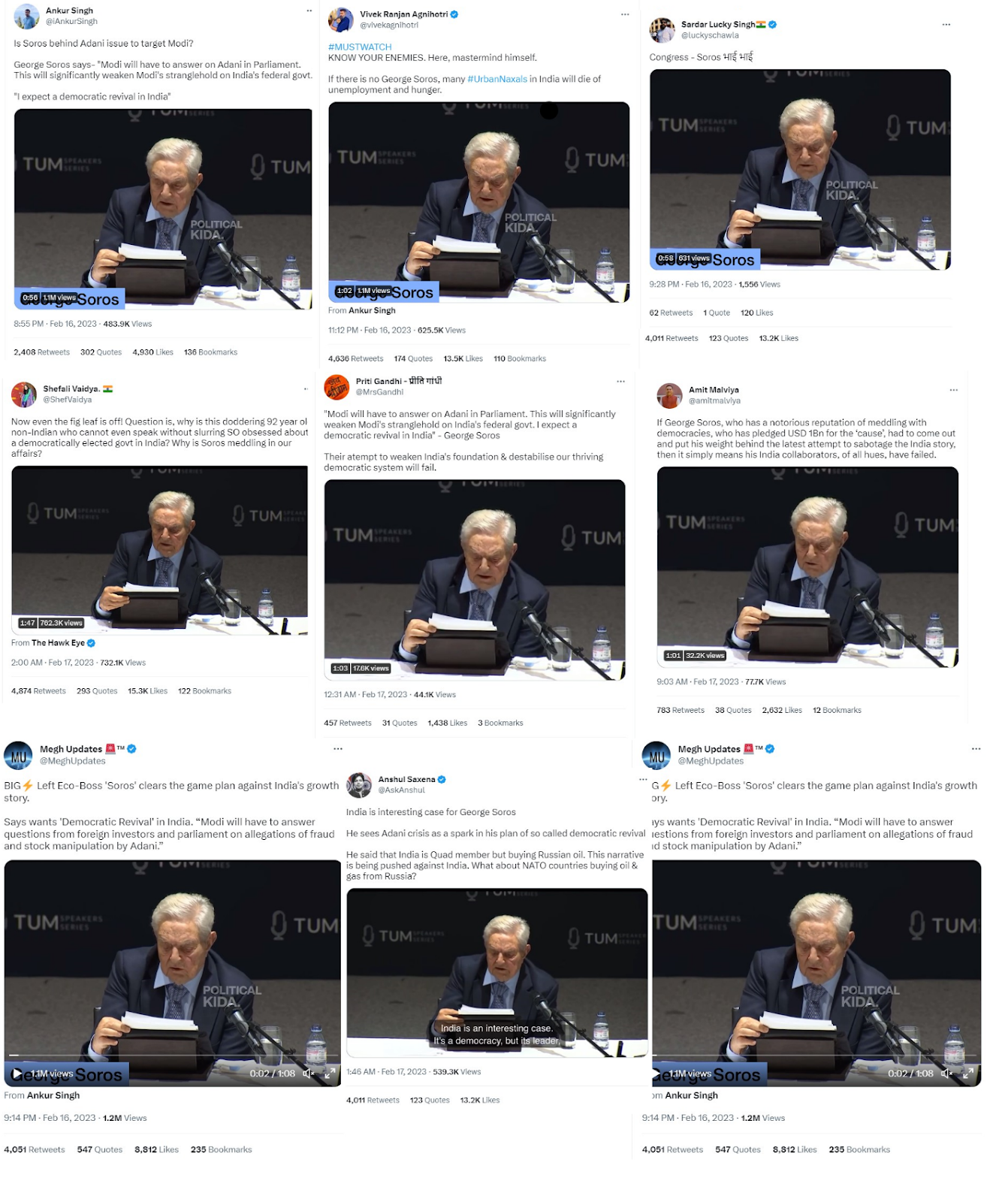 We mapped the key players and narratives about Soros. First, a small number of politicians drove content – opposition politicians claiming Soros showed the Adani-Modi-kleptocracy connection and ruling party politicians claiming Soros is the puppeteer behind anti-India forces. While a small number of accounts belonging explicitly to politicians, including those of the BJP main handle as well as that of the BJP IT cell convenor Amit Malviya were important in putting out the key content, the main amplifiers of content were influencers. Even when such influencers had just a fraction of followers compared to accounts of mainstream media or journalists, they were able to spread messages faster and virally
The first pattern we see is the attempt to undermine Soros as a powerful and influential person broadly. We see one strand of messaging that presents him as part of a global illuminati, including other philanthropists incl Gates, Rockefellers as well as media houses incl BBC, Time etc which published articles that show Modi in poor light. This is a trope seen in a range of online conspiracy theories that present issues such as vaccination, climate change etc. as having the hand of wealthy philanthropists trying to run the world on their own terms.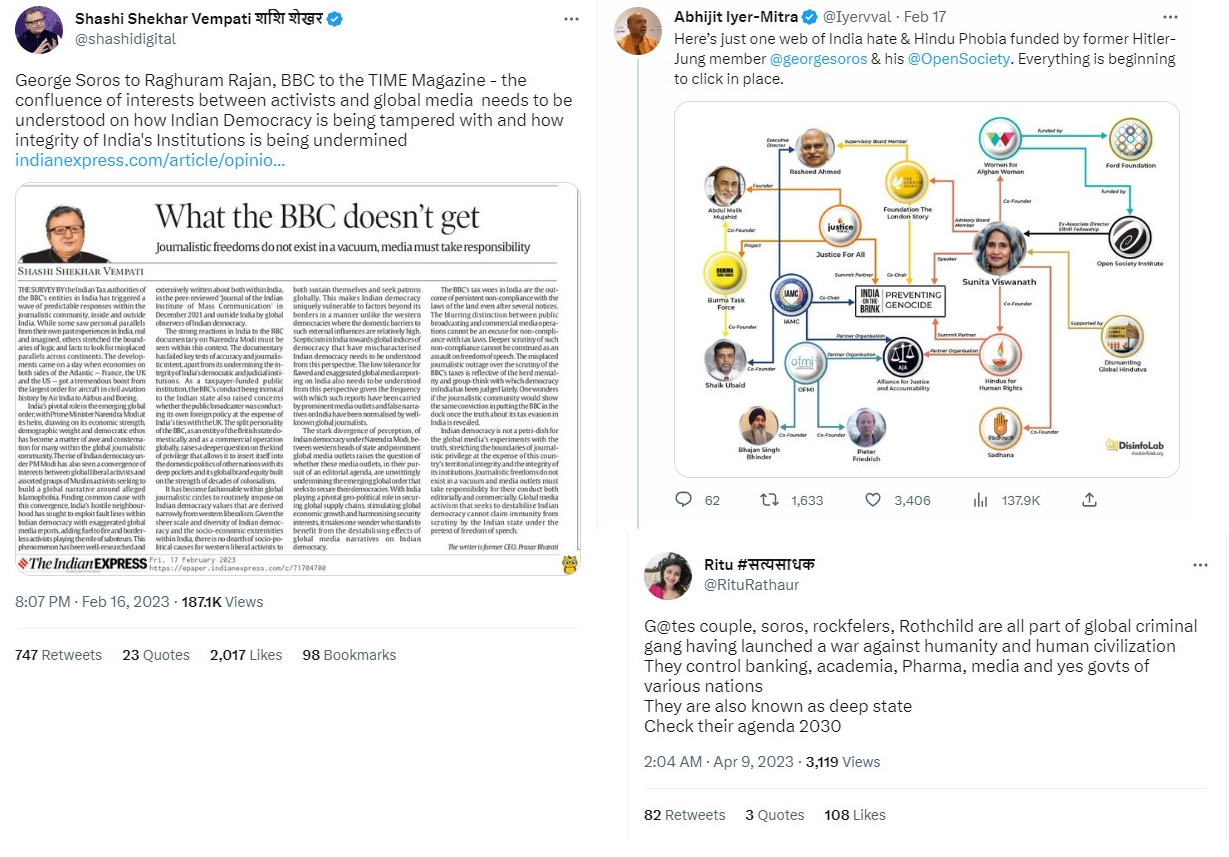 The second theme we see is directly through his own past – by highlighting his work as a speculator-profiteer, to distance him from his Jewish identity by calling him a Nazi, or highlighting his conflict with the political leadership in Israel, and underlining that he is not welcome in his home country of Hungary, where Viktor Orban ran his last campaign with Soros as the main focus.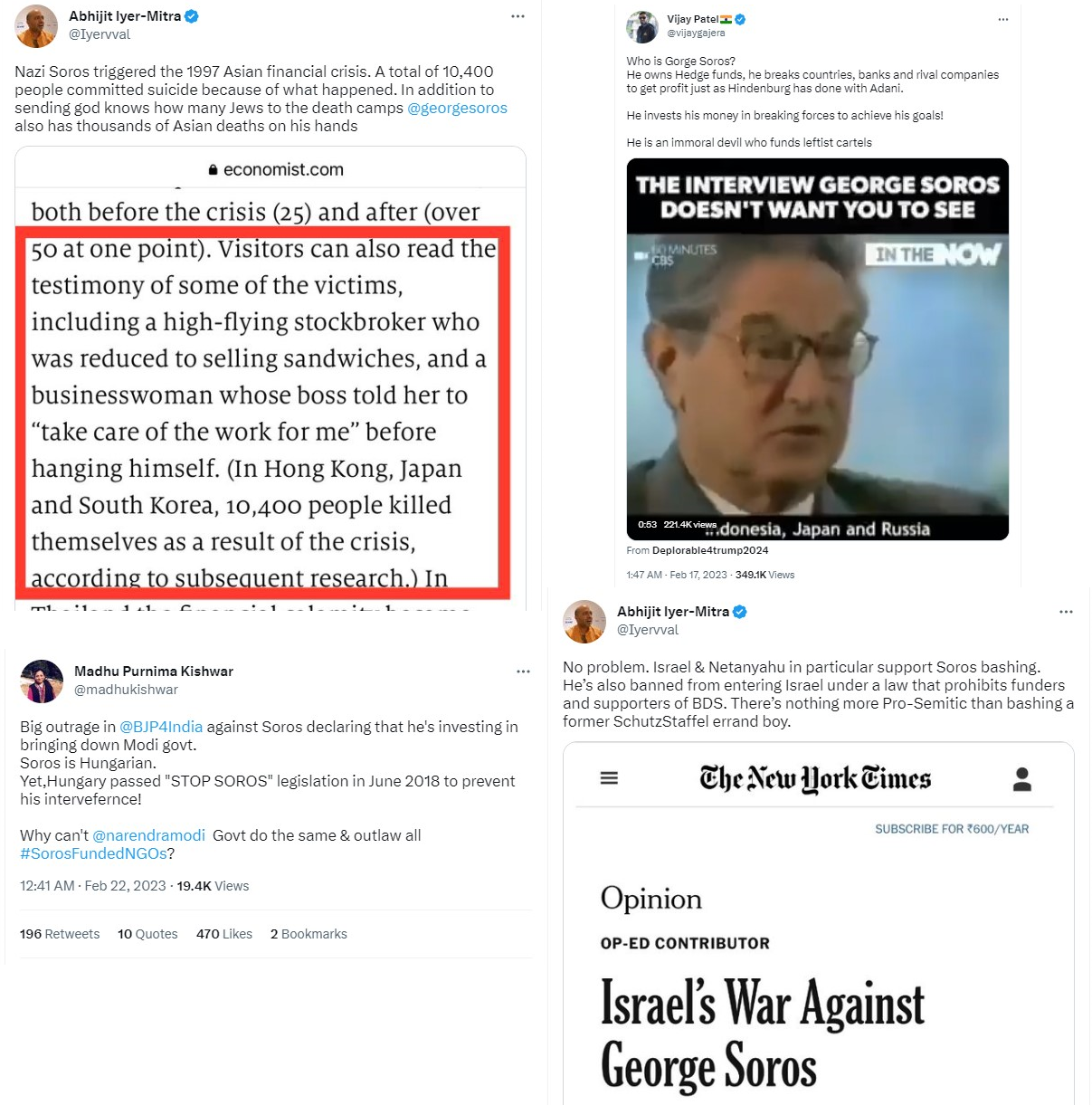 On Feb 18, Indian FM S. Jaishankar's called him "old, rich, and dangerous" in response, setting off a wave of Twitter activity. The use of "dangerous" as the adjective is an interesting choice, since the comment could easily have been ignored. However, by presenting him as dangerous, Jaishankar made Soros headline-worthy.
While Soros' actual impact in terms of electoral outcomes in India is likely negligible, the idea of him as a threat was claimed by multiple BJP leaders, and tweeted out by the party's central handle immediately after his comments. This dovetails a longer-standing notion of India being under attack from a range of foreign players who wish to destabilize the nation. This is also commonly used in the framing of a political enemy (Edelman 1985)
Overall, politicians associated from the BJP were much more likely to tweet about Soros. Most opposition politicians tweeted once or a few times, however a small number of BJP politicians including Amrita Bhinder from BJYM and Kanchan Gupta from MIB, and BJP spokesperson Sanju Verma tweeted multiple times and retweeted messages related to Soros. The only state handle that engaged content on Soros repeatedly was the BJP4Karnataka handle, which presented Soros as attempting to influence the state elections coming up soon. TMC MP Mohua Moitra got the most engagement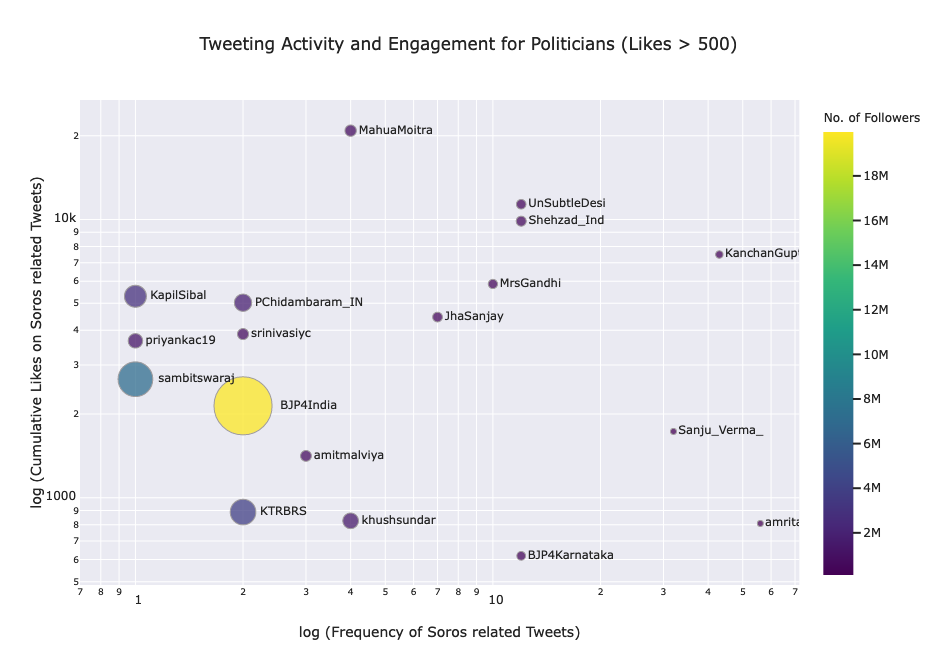 Overall, we find that both politicians and media houses were a lot less effective in creating engagement around the topic of Soros. For instance, while TimesNow had by far the most content on Soros, businessman TV Mohandas Pai's twitter account was a key one in promoting anti-Soros content.
Another pattern we see is that of amplifier accounts which do not create original content of their own, but play the role of aggressively retweeting content to make it viral. @56Perumal is one such account, which is not directly associated with a human person, but is one of the most prolific accounts at amplifying content. This account alone has tweeted over 1.7 million times.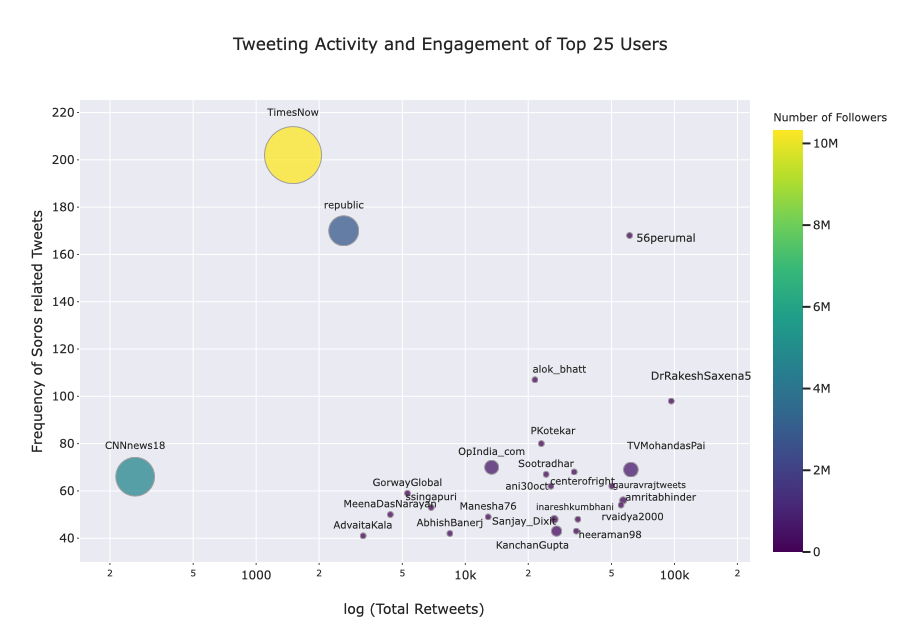 The media covered the affair to different levels. Media that lean pro-government like TimesNow, Republic and OpIndia covered Soros the most, with OpIndia being most effective in getting eyeballs. Outlets that generally lean anti-government gave Soros a lot less coverage.
This is likely for one of two reasons. First, the narrative of Soros being a danger to the nation was much more actively subscribed to by media that leaned pro-BJP. Second, there was generally muted engagement from journalists compared with the frenzy of activity from influencers, suggesting that the newsworthiness of the story was seen differently by social media.
TimesNow and Republic ran the highest instances of negative coverage of Soros, both suggested an explicit connection between Soros and Congress. IndianExpress' op-ed by Rajni Bakshi took a positive view of Soros' philanthropy, and the Hindu avoided amplifying its op-ed by G Sampath on Soros. Republic TV referred to the those funded by Soros at any point as the Soros Gang, while TimesNow trended the hashtag #SorosStrikesIndia.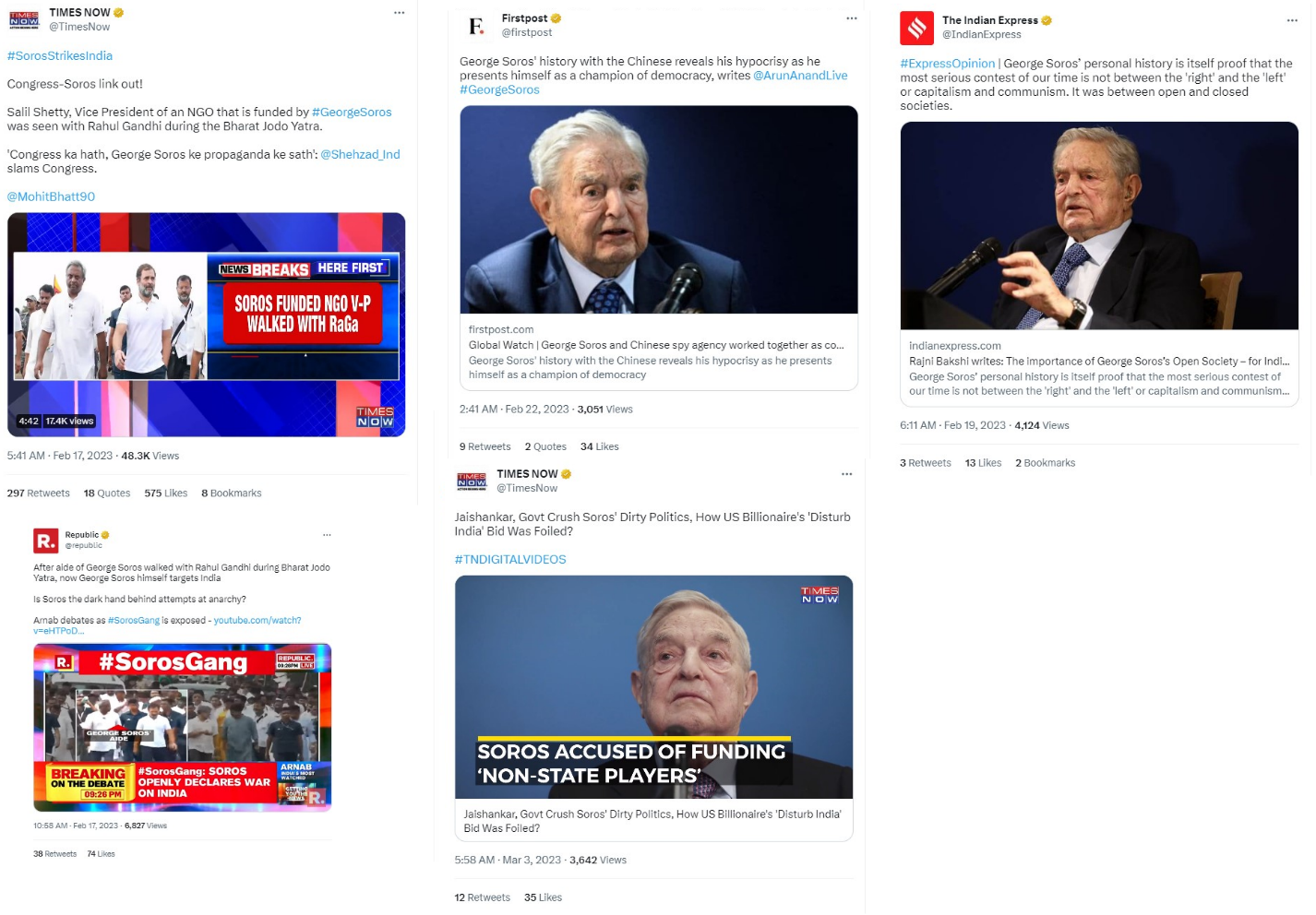 Individual journalists engaged the topic a lot less than media houses, and most journalists who engaged the topic were from pro-government media. This is in general an unusual pattern, since typically, journalists tend to engage fairly significantly (both through expressing their own opinions, but also by retweeting or responding to messages by others) with topics that are trending in the news.
We see that two journalists were far more engaged on the topic than most others – TimesNow's Rahul Shivashakar and the Lede's Sandhya Ravishankar. Both were also amplifying their own multimedia content – Shivashankar's own show on television, and Ravishankar's YouTube channel. The Lede was also an important source of the claims of Soros attempting to influence Karnataka elections.
Factchecker Mohammed Zubair took the position oppositional to the government, however, got more engagement than all the other journalists.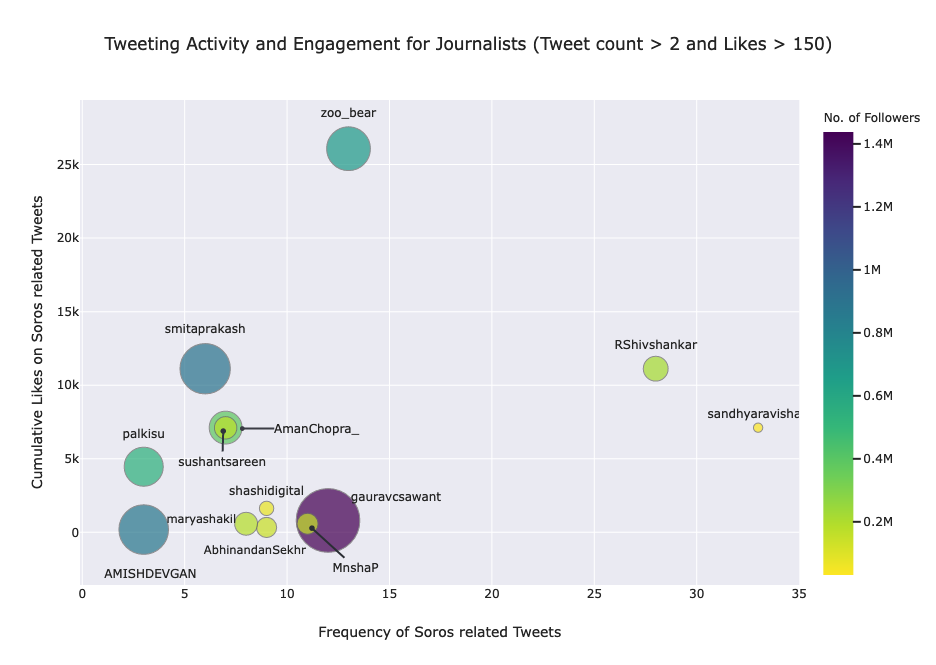 The media house Network18 had the most high-profile journalists tweet on Soros. Anchors, not reporters or editors, drove the content, mostly negative. Common claims were that Soros ran anti-gov agenda, Congress was involved, and that outsiders should not comment. Anchor Sudhir Chaudhary's television show suggested, without explicitly stating, that there was a conspiracy involving Congress, while Firstpost anchor Palki Sharma did a Twitter broadcast, the image of which we see here – which used words such as "weapon" "funnel" to present the notion of Soros as a dangerous operator.
Most journalists, however, used the "outsiders" narrative to propose that Soros should have no business commenting on Indian affairs.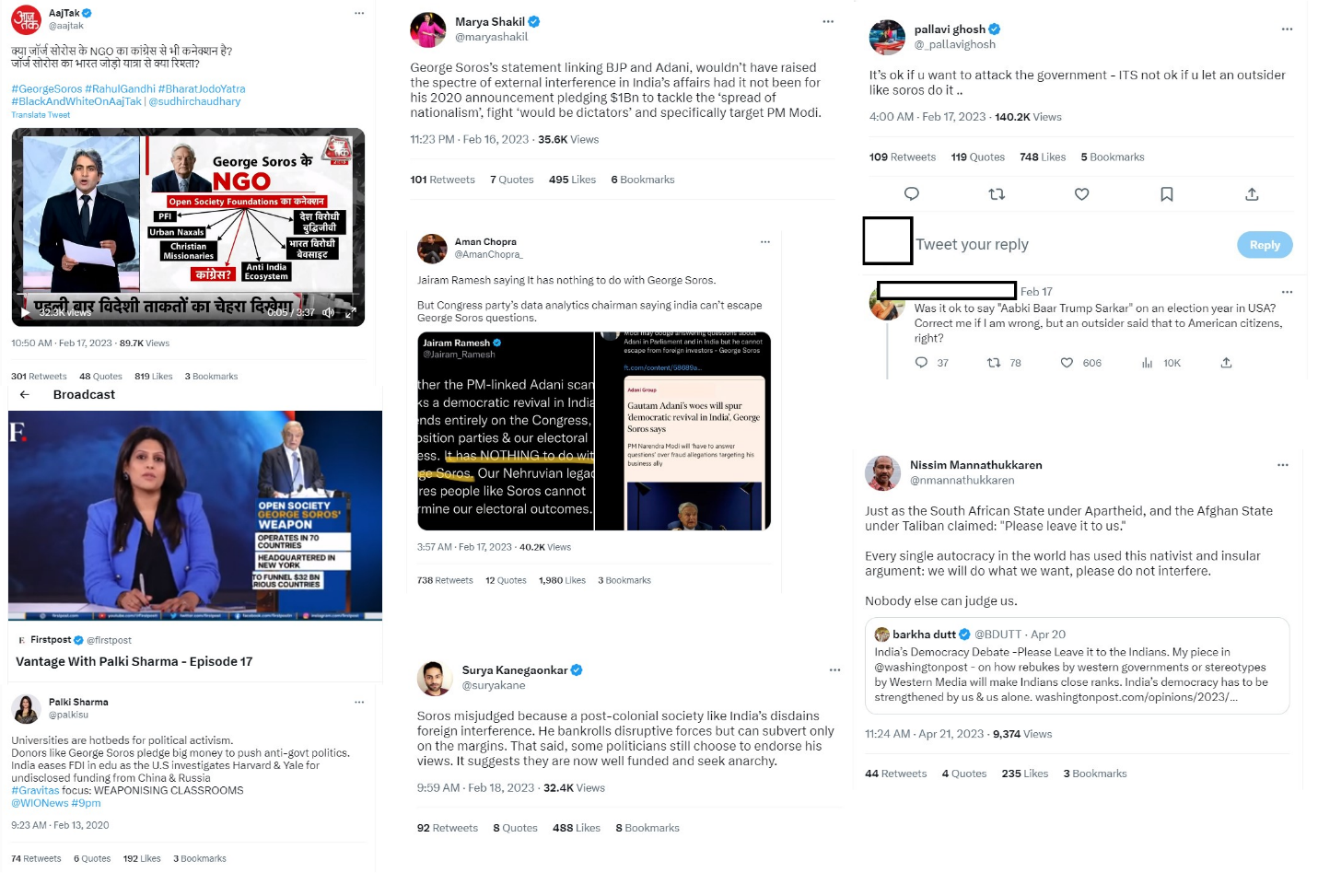 As we note throughout this paper, the Soros conversations were largely driven by influencers. The overwhelming majority of the most amplified messages were from right-leaning influencers, who had a greater ability to drive the discourse than journalists, politicians, or even mainstream media handles.
However, mainstream media had an important role to play in extending the discourse because television news kept the conversation alive through repeated discussions between various live debates, clips of which circulated online. Since the influencer and mainstream media ecosystems are fairly integrated, this means many of the influencers get to go on television, and then circulate what they said on television on Twitter.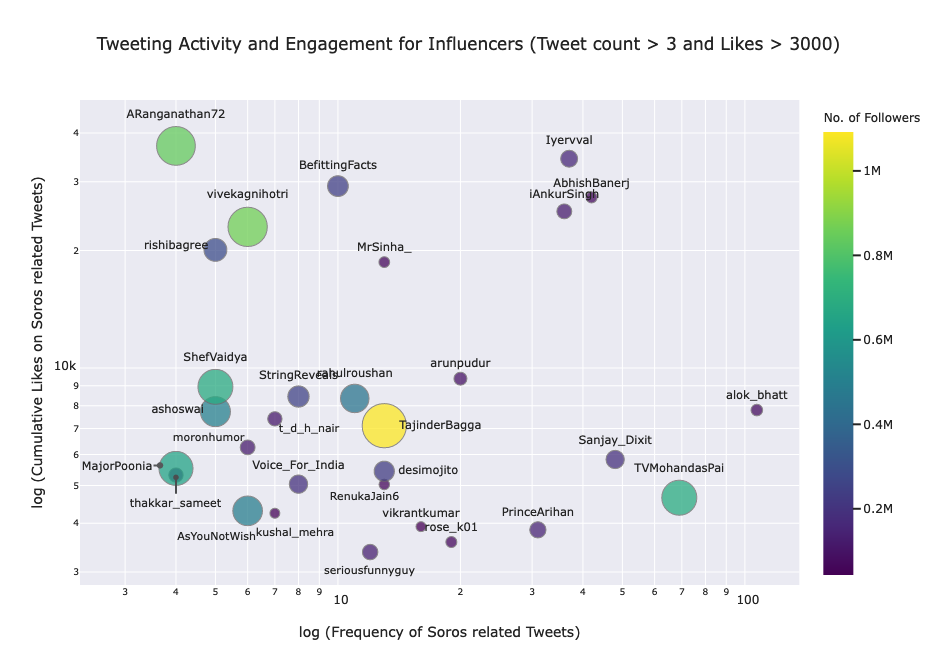 The top influencer was Aranganathan72, whose messaging routinely outperforms every Indian politician except Narendra Modi and Rahul Gandhi in terms of the engagement to his content. His messaging also doubles up with TV appearances, which enhances engagement.
Ranganathan is careful and deliberate with his phrasing of tweets and has a dedicated following online. Even though he did not tweet as much about Soros as several of the others, his net impact in this, and most other issues he comments on is extremely high.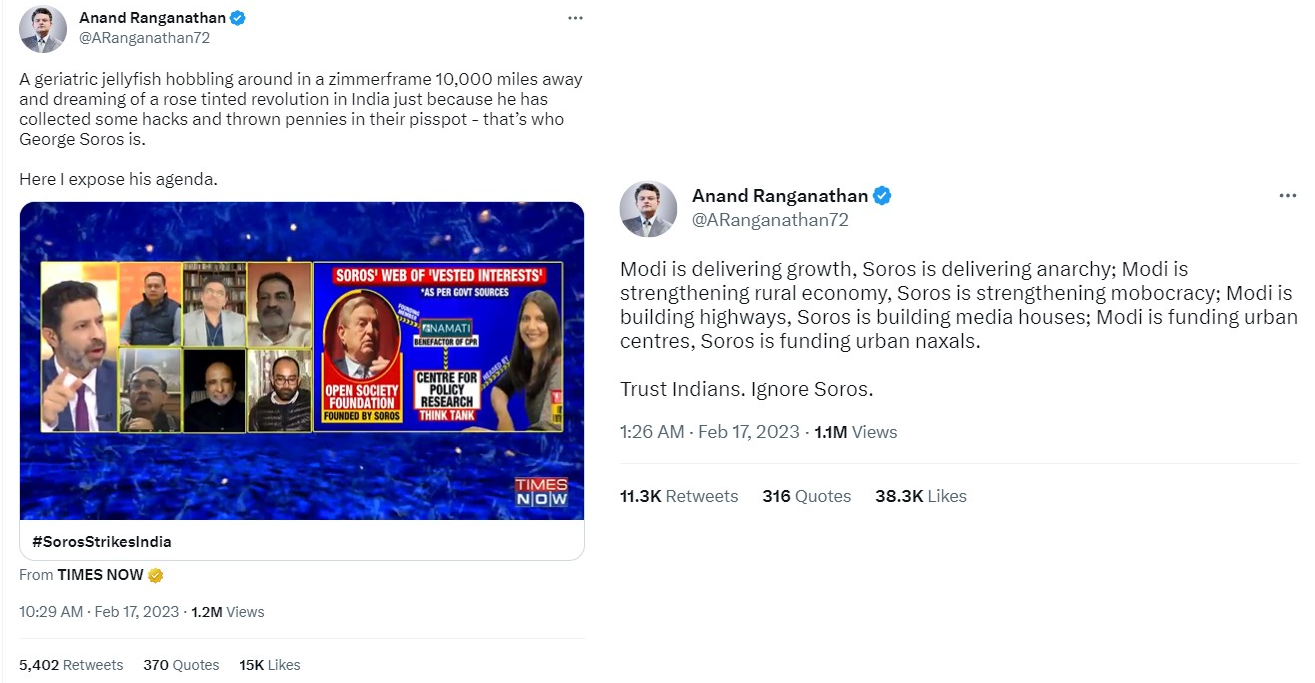 The notion of a behind-the-scenes management of affairs is commonly attributed to Soros wherever he is seen to have funding. The presence of the Open Society Foundations VP Salil Shetty in the Bharat Jodo Yatra, and the fact that he was able to walk directly next to Rahul Gandhi, the access to which was fairly controlled, was presented as evidence of a strong link.
Overall, the focus of the messaging on Soros is that he is a backer of the Congress, and he is presented in multiple tweets with the metaphor of a puppeteer, presenting Rahul Gandhi as controlled by him.
This is also useful as an attack against Rahul Gandhi himself, since he has in the past been presented as someone unable to intellectually manage the weight of political work.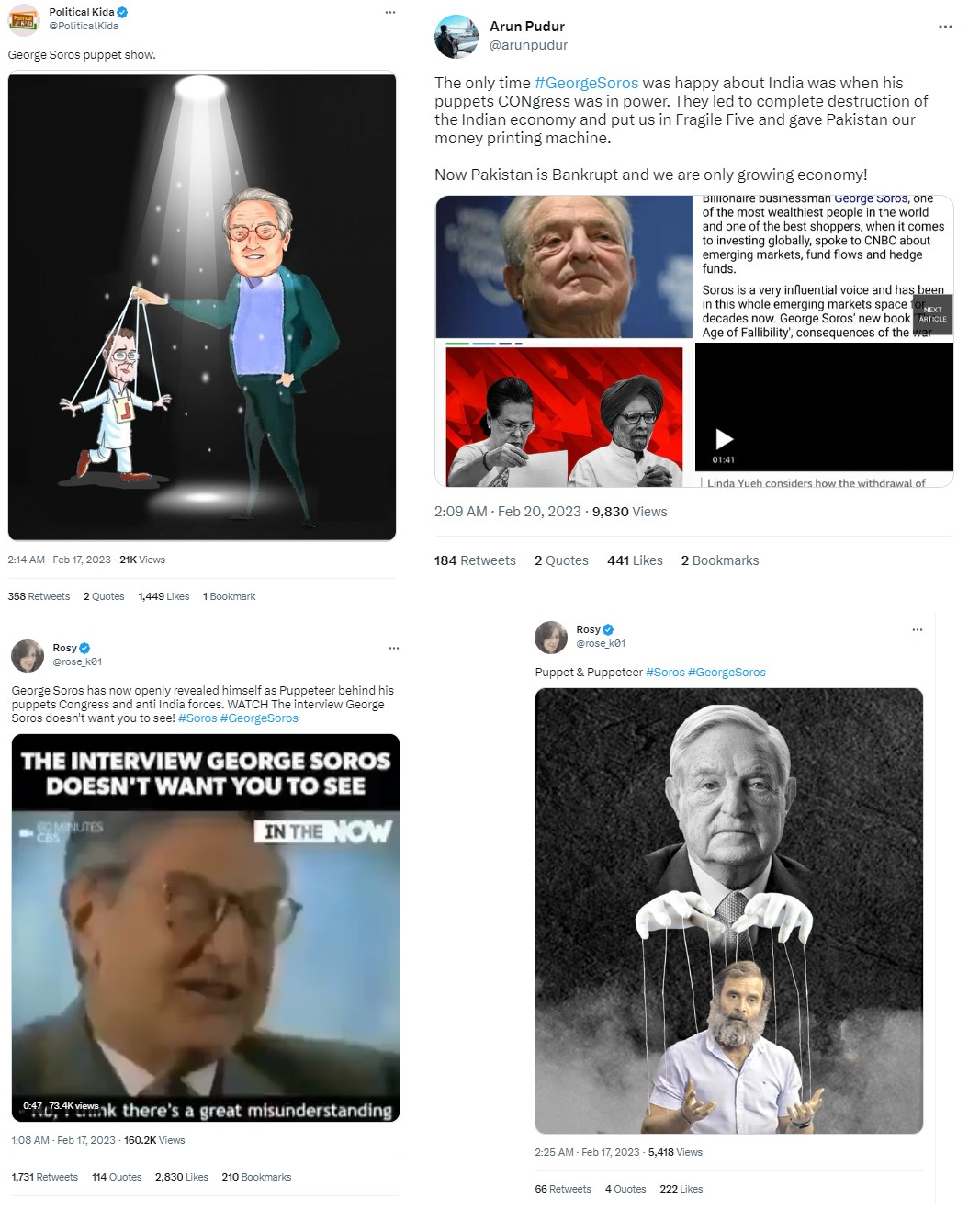 Several tweets suggest a connection between the Nehru-Gandhi family and Soros. Given both the broad range of investments made by Soros in the past, as well as his own access to political and business elites over the years, there are connections that have been pulled out between the Gandhi family and people in direct contact with him.
Such messages are in turn amplified by influencers with huge engagement. Here, for instance, we see a tweet by Rahul Shivashankar amplified by Mohandas Pai has various levels of innuendo. This also brings out what is a key target of the campaign against Soros, that of highlighting the funding sources of independent media in India, several of which have in some part received funding from organizations that Soros has been involved in bankrolling.

A key line of conversation is around the Karnataka elections, which are the nearest elections that the BJP and INC are locked in battle for. That Soros associate Salil Shetty is in Bangalore, and has in the past been at public meetings to build a social movement was presented as evidence of a foreign hand. The underlying message of such tweeting is that the Congress party is itself is being guided by Soros, and in the immediate future, that this is being used for the Karnataka elections.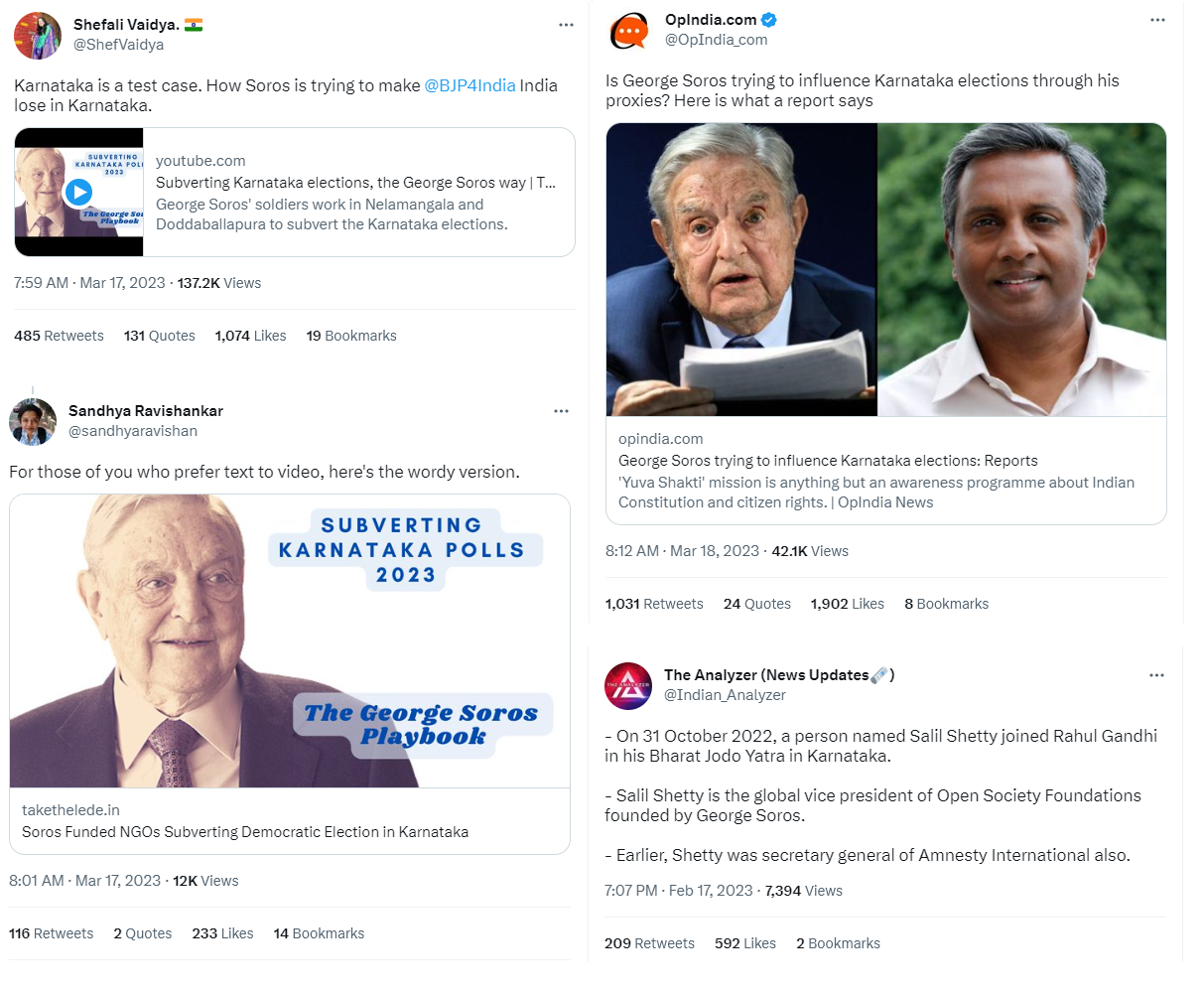 In addition to the Congress, a series of messages aims to vilify a range of people funded at some point or another by Open Society. OpIndia leads the charge on this by doxing several individuals & NGOs presenting them as anti-national.
One major target is CPR_India.
While many of the organizations that have been named did not present detailed qualifications of their funding from Soros, it is not stated anywhere that any of the funding was illegal.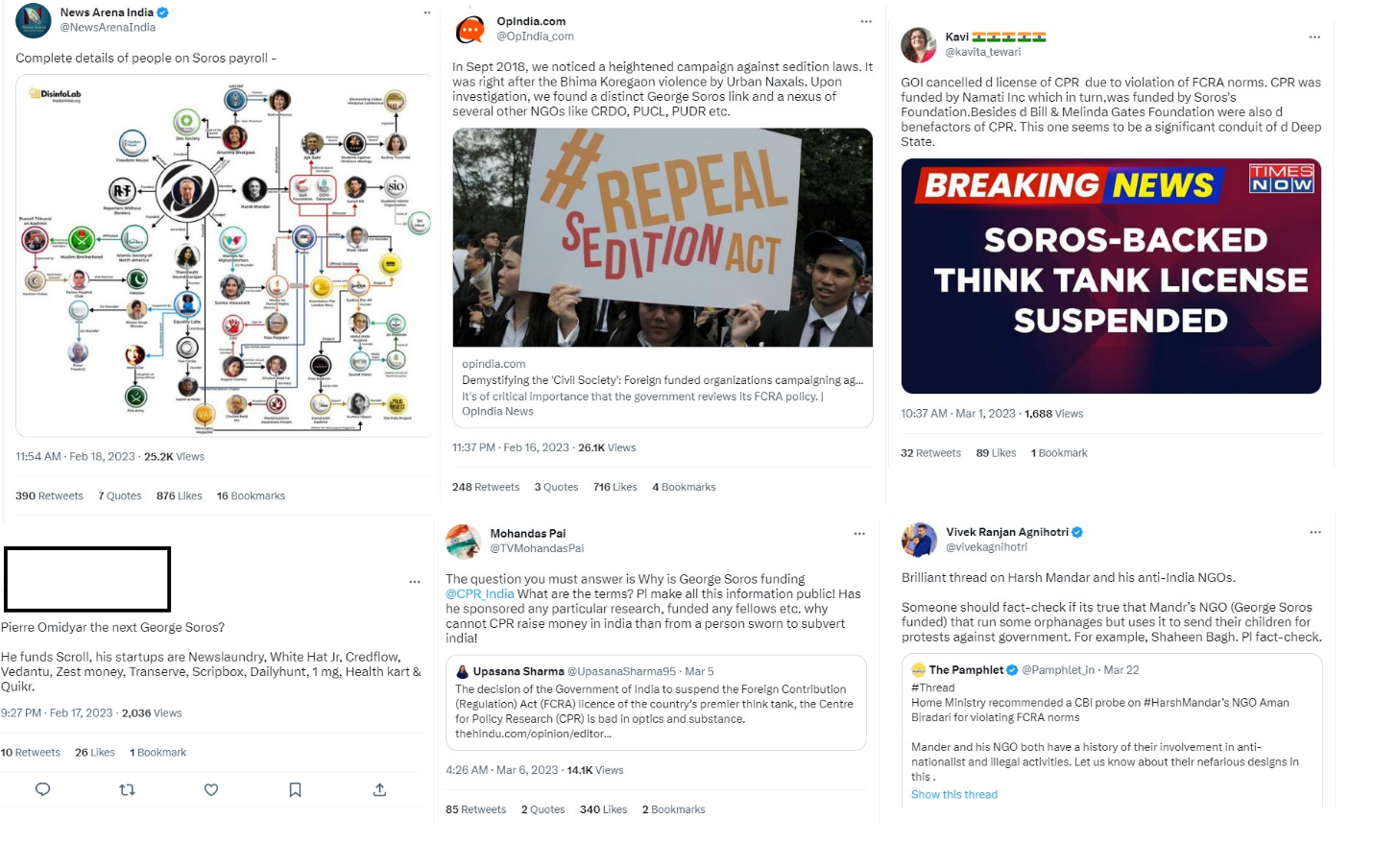 Besides these, tweets go after several public figures that tend to attract abuse from right wing corners including Amartya Sen, Raghuram Rajan, Manmohan Singh, Pratap Bhanu Mehta, Rana Ayyub Harsh Mander etc. Many of these individuals have at various points been at the receiving end of negative social media engagement from the right.
In this case, co-mentioning many of these individuals, or people in their families, in this context presents them as agents of Soros, and in turn undermines the work they do as externally funded.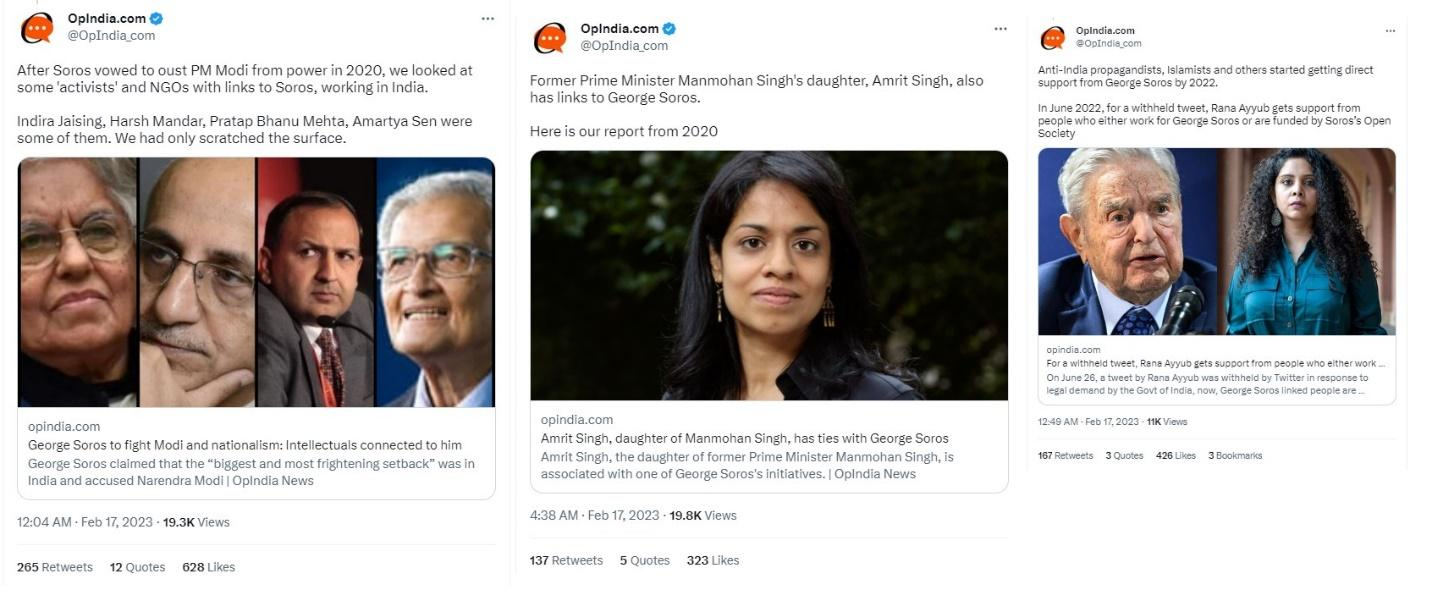 Tweets also attack Indian businesspersons as agents of Soros – two in particular are Nilekani and Azim Premji. While neither Nilekani nor Premji have been explicit supporters of the BJP unlike several other key members of the Indian business fraternity, the immediate connection for the attack on them appears to be their funding for IPSMF, which funds independent media.
The attack on IPSMF is important, since there is a significant amount of Twitter activity, mostly from the right, attacking IPSMF for its funding of various independent media including The Caravan, The Wire, Article 14, The Newsminute, among others, many of which are seen as presenting anti-BJP positions in their content. However, IPSMF has also funded the Lede and Swarajya, besides Mojo and Print, which aren't at the center of the right's attack in the Soros affair.
No clear connection between IPSMF and Soros is drawn in the Tweets.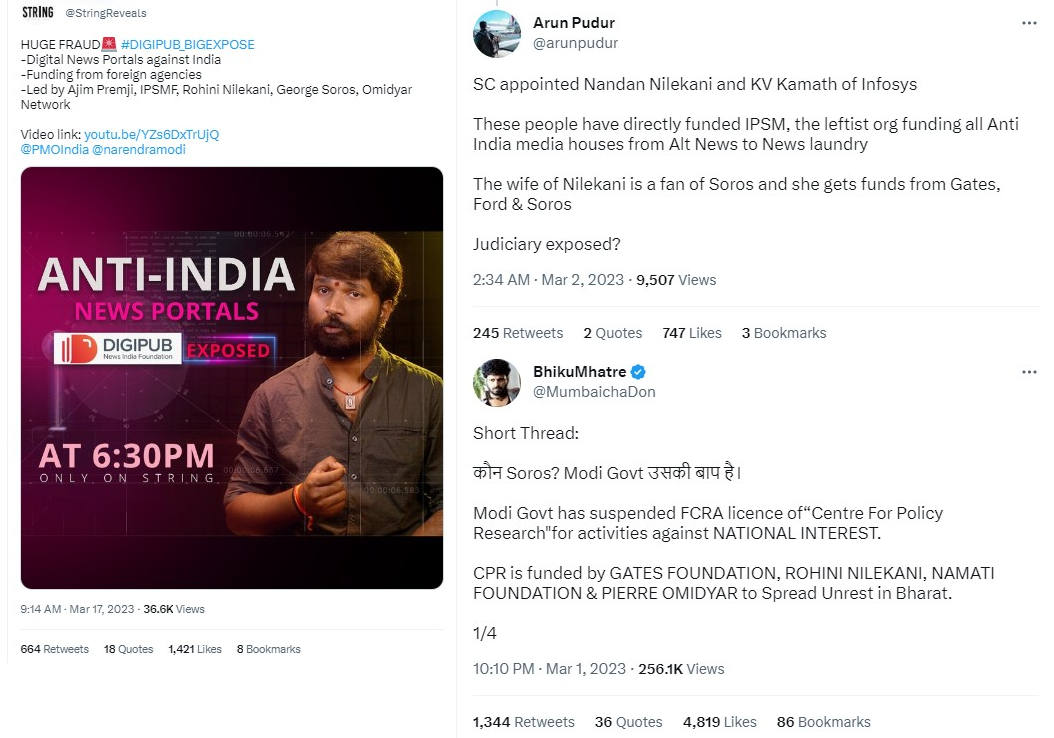 Soros is presented as operating on multiple levels to undermine India, including plotting the Hindenburg report on Adani, the BBC Documentary, the Rafale scam, and the Pegasus leaks. This characterization helps to build a single origin story for much of what has dogged the BJP government, especially in terms of its international image, in its tenure.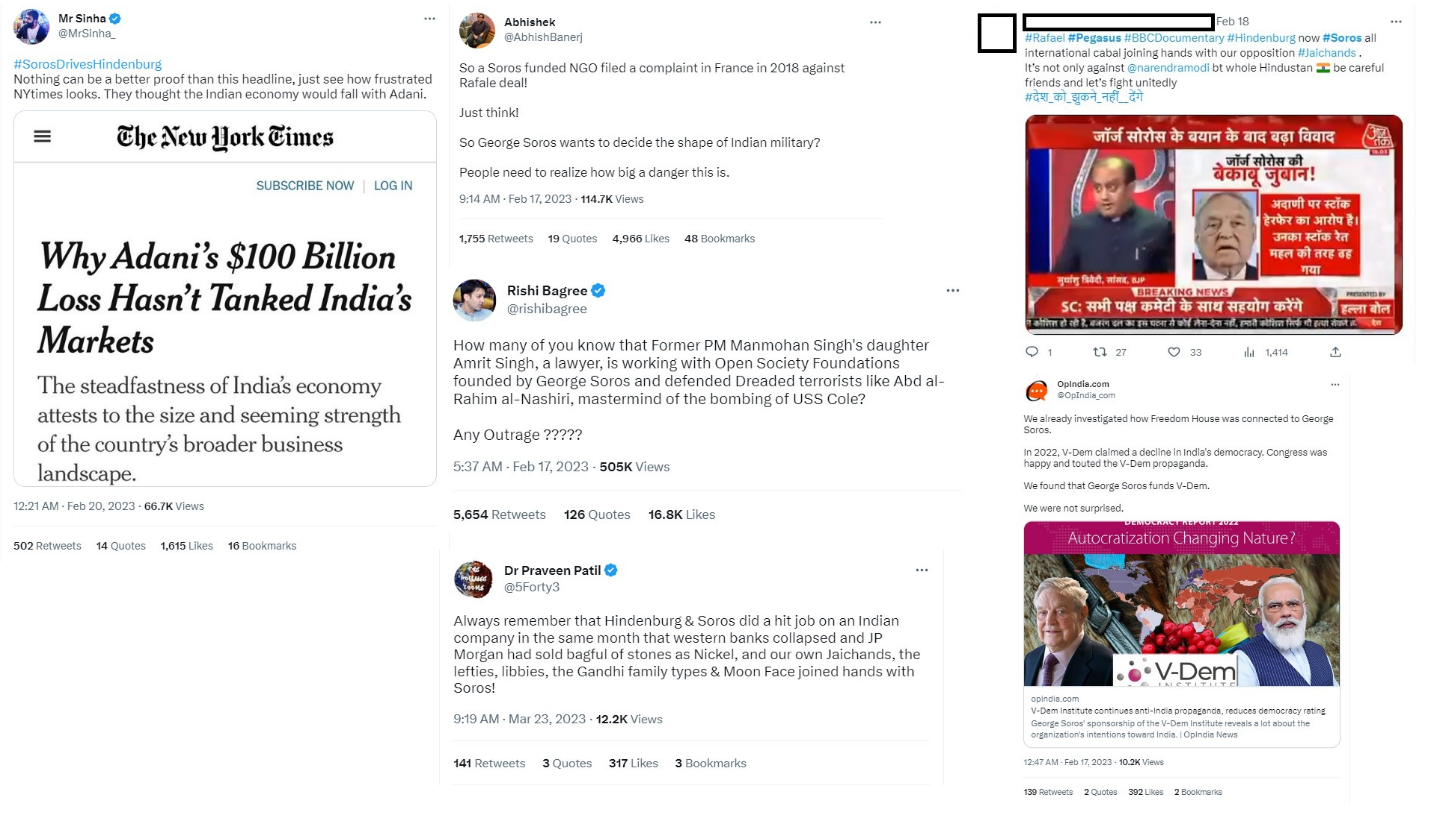 While Indian influencers users are careful not to use the anti-Semitic tropes that are commonly used to attack Soros the world over, they do however propose that he has a soft spot for Muslims, and that by extension, this relates to a hatred of Hindus.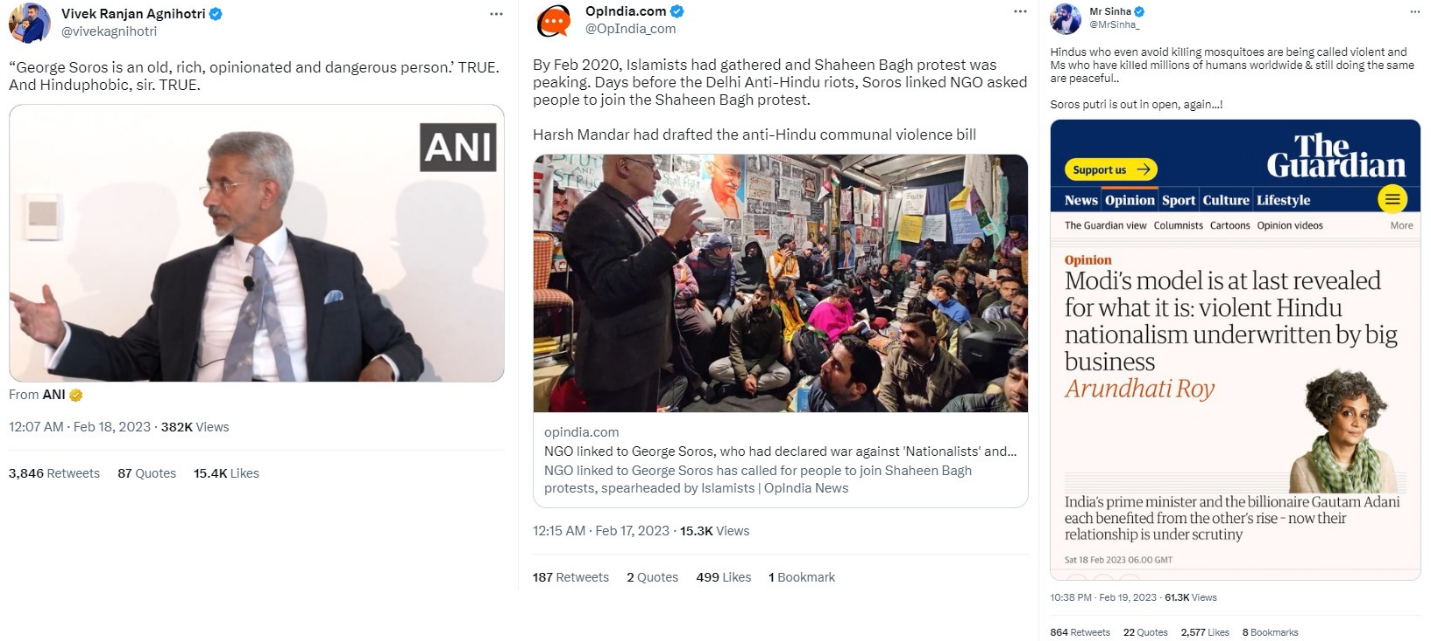 Finally, we see that a number of tweets directly attack the Democratic party in the US, presenting Soros as their puppeteer. This is a common theme in far right tweeting in the US, which has also presented Soros as a mastermind behind Trump's removal from office. The alignment of some of the Indian right wing influencers with an anti-US sentiment is part of an ongoing simmering disdain for Biden and tensions related to liberal values more broadly espoused by the present political dispensation in the DC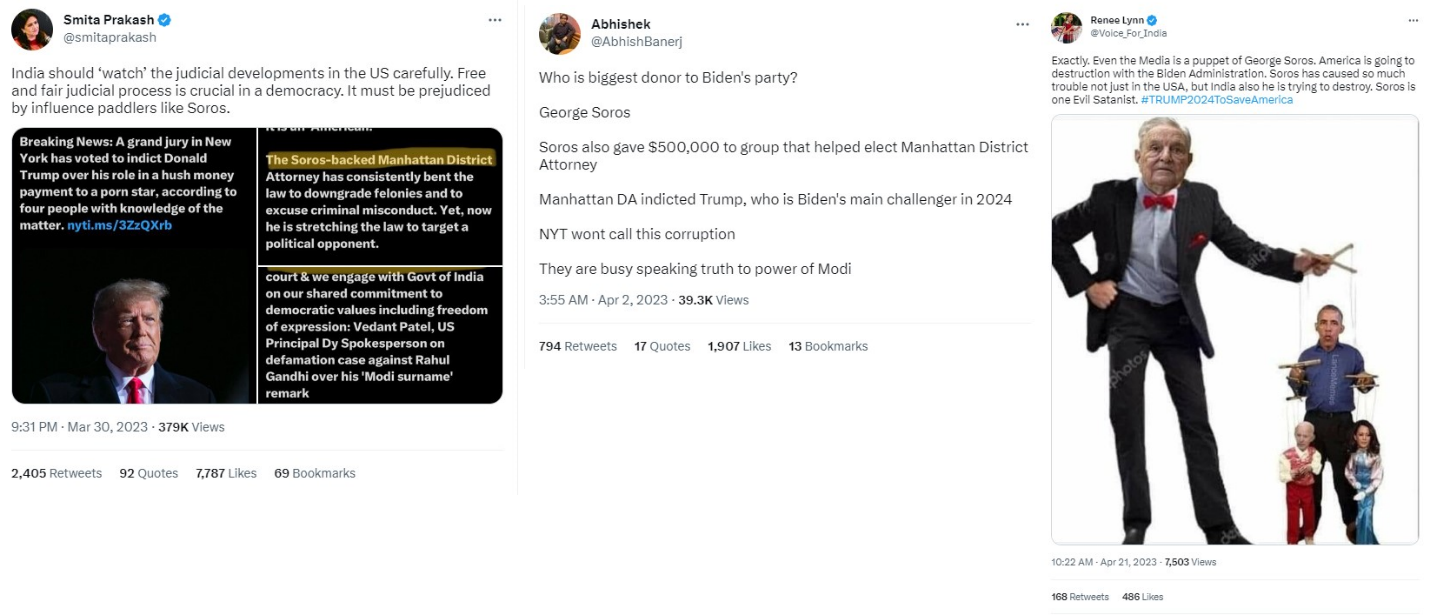 Jaishankar chose his words carefully in calling Soros 'dangerous'. In doing so, he extended his boogeyman status beyond countries with a White Nationalist / antisemitic streak.
The majority of messaging on Soros was negative. Even though a small number of opposition politicians were able to get engagement for point out that Jaishankar's son worked for a Soros-affiliated entity, politicians are cagey about associating too closely with a foreign person.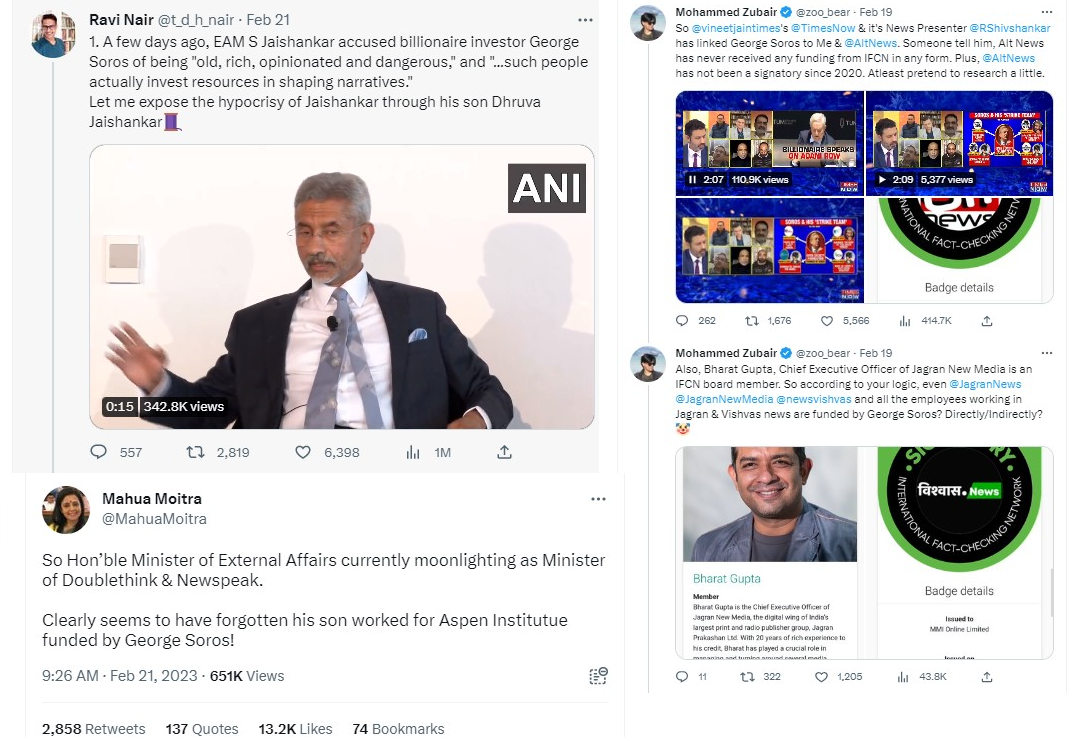 Overall, the targeting of Soros that we see in India is fairly well aligned with the ways in which he is presented as a master manipulator in other political discussions online. We see that on Indian Twitter, there is a lack of antisemitic content, and this is in part done by presenting Soros as a Nazi, and a detractor of the Israeli government.
Most philanthropies prefer spending on "non-controversial" items, rather than issues that get at the heart of individual rights. OpenSociety has funds causes on inclusion & accountability, this added to Soros' own history of wealth makes it a handy target for foreign interference. Several individuals & NGOs that have ever received any Soros-connected funding are doxed. The less obvious targets of the campaign are organizations that aim to fund independent media (IPSMF) or support for independent civil society.